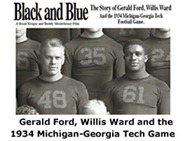 If you missed it, Brian Kruger, director of the wonderful documentary Black and Blue joined Ira and Sam this morning on WTKA 1050AM to discuss the latest on this documentary and their effort to encourage the athletic department to honor Willis Ward is some way – in particular on October 20th before the MSU game.  The State legislature is set to make the 20th officially "Willis Ward Day" throughout Michigan.  This year would mark Ward's 100th birthday as well – what a great time to honor him.
Their petition to have Ward honored is live now, you can join me in signing on here.  As Brian said in the clip, he's not suggesting that U-M offer an apology all these years
They are also still active in getting a copy of the movie in every school and library in the State of Michigan and are making great headway.  If you are interested in getting involved as a sponsor or supporting this effort, let me know and I'll put you in touch with Brian.
Need the movie?  Get it at Stunt3.com or on Amazon.com.
Here's the audio of this morning's segment:
Brian Kruger - WTKA 1050AM on Willis Ward
Play Now
|
Play in Popup
|
Download
Related:  The Willis Ward Protests
Follow MVictors on Twitter