Apparantly NBC News anchor Brian Williams took aim at this town and your Wolverines during his commencement address to graduating Buckeyes last week. One Ann Arborite wasn't happy about it and his letter was published in the Sunday News:
Memo to Karl: While your passionate defense of our team and city is admirable, I think you need to lighten up on Williams. Switch things around and you'd be laughing away at the Buckeye jokes.
You can view a video of the address here, the speech is lackluster as were the jokes aimed at Michigan. Williams said the Ann Arbor jabs were supplied by Tom Brokaw and another friend in the business. I wouldn't have taken credit for the jokes either.
So he gets a pass on that one. If you want to take shots at Williams I'd start with:
* His comments about bloggers whom he feels are "on an equal footing with someone in a bathroom with a modem." Is that bad? Maybe Cook and company will add Williams to their no-holds-barred quiz bowl challenge.
* His George Hamiltonesque penchant for tanning, including the bizarre white racoon-like goggle lines around his peepers: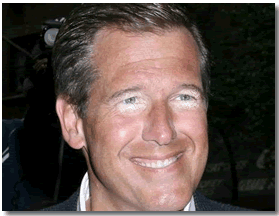 * His profession. Does anyone watch network news anymore?: