It's official now.
The Big Ten Network will continue its Icons series this fall, this time looking at the iconic coaches in the league.  It's not a countdown this time, rather, they just selected a legend from each school:
The 12-episode series will stretch into the winter, and profile one coach from every Big Ten school, including Illinois' Lou Henson, Iowa's Dan Gable, Indiana's Bob Knight, Michigan's Bo Schembechler, Michigan State's Jud Heathcote, Minnesota's Herb Brooks, Nebraska's Tom Osborne, Northwestern's Kelly Amonte-Hiller, Ohio State's Woody Hayes, Penn State's Joe Paterno, Purdue's Gene Keady and Wisconsin's Barry Alvarez.
I did get interviewed for the Bo piece so my goofy mug might be in there.   (And maybe in Woody? That would be a treat.)
As far as the other selections, Lou Henson is a bit of a surprise.  I guess I would have went with Bob Zuppke but ok.
I've got a big issue with the Jud Heathcote choice, however.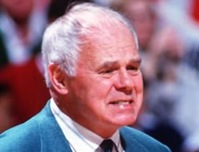 Without getting too far into this, I grew up in East Lansing watching Jud and I went to his hoops camp and I have nice memories of the man.  And I get that the show can highlight the 1979 title and his grooming of Izzo & it will make for a quality show.  But brother, Jud would be pretty far down on my list, unless it was recognizing iconic comb jobs (Lou Henson would remain as well).   I'd easily put Biggie Munn, Duffy Daugherty, Ron Mason and Izzo ahead of him. 
All that said, they did such a great job with the first round I'm looking forward to seeing all of these.
Related:
Here's the Harmon Icons piece if you need it: