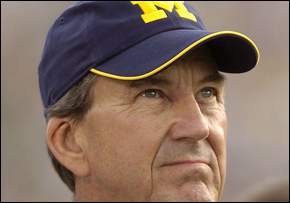 Next Tuesday at 6pm EDT the Big Ten Network will air its 'Big Ten Legends' series piece featuring Lloyd Carr. I caught the ad for this during the BTN's practice coverage last night. Here's more from their website:
Big Ten Legends is a 30-minute show that lets fans experience the conference through the eyes of those who helped create the history and foundation of the Big Ten. Relive the greatest moments of the Big Ten through untold stories and remarkable personal accounts from legends such as Archie Griffin, Jim Abbott, Lloyd Carr and many others.
Elsewhere, a local Indiana TV channel caught Carr at an event at the college football hall of fame, and he spoke a bit about the Notre Dame rivalry. Video here.
Carr commented on the likelihood of one team dominating this rivalry, which will run at least through 2032, "By in large, no team will every dominate this series ever. It is too much of a rivalry for that to happen."
Update: Here's a preview from BTN: