A few final thoughts on the game and quick look at next Saturday night:
* Postgame Digs – A view of the new media room in Crisler Center. For the past few years the postgame press conferences have been held under the stadium in a room just off the tunnel. This is where the Michigan postgame pressers take place: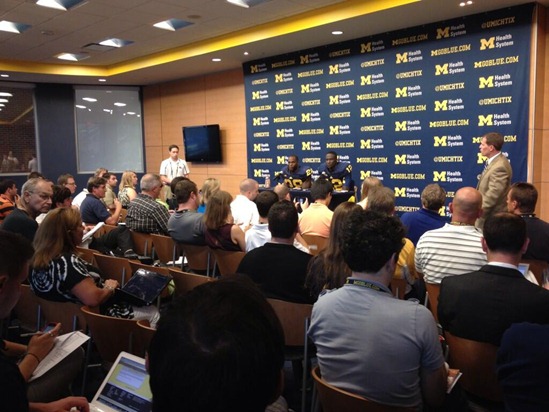 * Uniform Timeline – I believe the only new items on the uniform for the timeline is the larger block 'M' below the back neckline and the block 'M' gloves? Or have we seen the gloves before? Let me know your thoughts.
As an aside I don't see the same contrast in my game photos, but on TV the maize color of the jerseys seemed significantly darker than the shade on the helmets.
* For Grins A slight boost in The Mood with the win; next week will move the needle one way or another: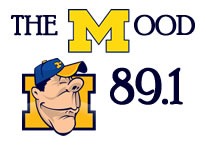 * Hate? Not a lot of moving in the Hate Index but things are heating up with the Irish. U-M fans still heated up over the Notre Dame cancellation. Notre Dame fans probably not crazy about Hoke's chicken comments. Now Brian Kelly's comments downplaying the history of the rivalry sends steam out of my ears:
What a turd. Obviously Kelly is a) a shill, and b) and needs to brush up on his history.
* Tough Day to be a Sheikh. A few historical bits from the game notes:
– Fifth-year senior kicker Brendan Gibbons accounted for 11 points with eight PATs and one field goal. With 213 career points scored, he moved to 14th among Michigan's all-time leaders in the category, passing both Rick Leach (204, 1975-78) and Ali Haji-Sheikh (210, 1979-82).

– Gibbons also extended his consecutive PAT streak to 105 and his consecutive field goal streak to 14. He moved to fourth all time among U-M's career PAT leaders (120) and earned a share of fifth among the Wolverines' career field goal leaders, tying Haji-Sheikh with 31.

– Fifth-year senior receiver Jeremy Gallon has posted a reception in 27 consecutive games. He had four catches for 47 yards vs. Central Michigan.
* Happy 75th. Did you pick up a CMU program? Jump to page 14 for a salute to the winged helmet on this, the season marking the 75th anniversary of the iconic headgear Conclusion: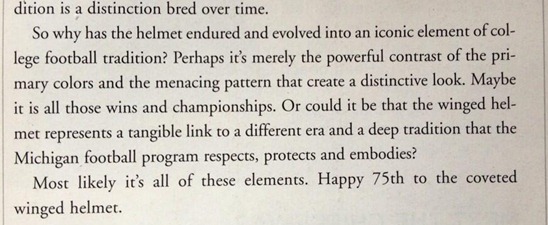 * Old 98. Speaking of programs, I mentioned earlier that the athletic department is issuing a commemorative, embossed program for the game. It includes:
An interview with Tom's son, actor Mark Harmon (I got a sneak look at it – great stuff)
An interview with legendary broadcaster Keith Jackson
Write up on the 1940 Cal Game (first college football team to fly, drunk fan incident, more). I wrote it, you'll love it.
Quick review of the 'Harmon of Michigan' movie.
Timeline of Harmon's life
Awesome photos
You can order it now, details here, here's a look at the embossed cover: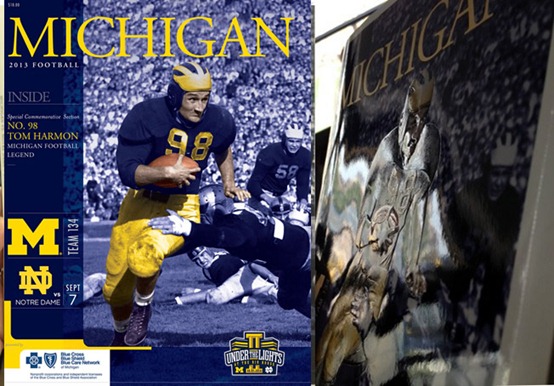 The Questions. Two questions I'm getting. Qs: Who will wear the #98 and will Mark Harmon be in the house? As: Dunno..and I'd be pretty shocked if he's not here. I asked Hoke about the 98 jersey and this won't help narrow down who will wear it, but you get validation that #1000SSS has developed a good relationship with the Harmon family:

Elsewhere:
* Lots of photos here and here and here of course. Not enough? See these guys:
The rest of the CMU Coverage:
Follow MVictors on Twitter