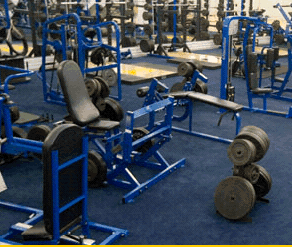 To make way for new fitness bad boy Mike Barwis and his $600,000 new toys, Rich Rod and his henchmen cleaned out the weight room. The old equipment will be on sale Sunday from 12-3 at ROCK BOTTOM PRICES. Details here and here:
Due to the purchase of new equipment for the Schembechler Weight Room, the University of Michigan Athletic Department will be holding a public sale of surplus equipment. The sale is scheduled for Sunday (Jan. 13) from noon to 3 p.m. in Oosterbaan Fieldhouse.

The equipment includes weightlifting apparatus as well as aerobic machines and dumbbells. Cash, credit or checks will be accepted, and the equipment must be removed from Oosterbaan Fieldhouse that day.
Get on it man – Grab that bar and send it up!
After one house cleaning, another was announced as you know by now that Mallett, Manningham and Arrington are gone. No hard feelings here for these kids and of course wish them best of luck.
My take on 86 is "Happy Trails, Super Mario". I didn't think the guy gave 100% effort at the Wisconsin game and was obviously frustrated. I don't care if Mallett wasn't getting him the ball, he should have played through it and I have trouble forgiving him for that. Plus, did you really expect he'd stay? I always remember the great catches against Penn State two years ago and of course Michigan State in November. So long. (Maybe Millen will take him).
Mallett? Feel bad for the kid. I understand he's struggled here a little bit with living here and with some of the teammates. I don't like the 1 year transfer penalty in cases where the coach leaves. This is a textbook argument against that rule. Anyway, I hope it works out for him. And I wish people would hold off on bad mouthing him, as I heard a bit of today on the radio.
Arrington? Boy, after that Capital One game this hurts and it is a surprise. A guy who worked his way back on the team after getting in some trouble. He made the best of it. To me, a great story. This hurts a bit as he would be the guy next year. Again, best wishes for the dude in the NFL.