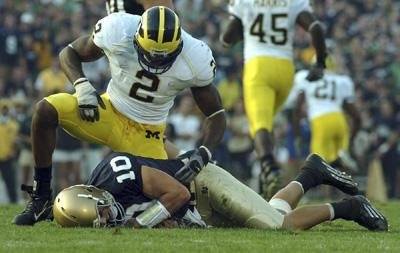 That's nothin'. Wait until you see Detroit's third string
Congrats to Shawn Crable who came from someone who was presented transfer papers by Lloyd Carr to captain of the 2007 Wolverines. mgoblue.com just announced this year's crew. Hopefully this season will end as good as it has started from Crable as he will be needed! He joins Mike Hart and Jake Long to round out the three-member leadership team. On the offensive side of the ball, Hart was a lock, and I suppose I figured the other guy would be Long (a repeat captain, first since Steve Hutchinson) or Chad Henne.
Other than his trouble finding the right mindset to achieve at Carr's level, Crable is best known for lighting up 2006 Heisman winner Troy Smith in last year's big game. This of course extended the Buckeye's drive and effectively ended the game for Michigan.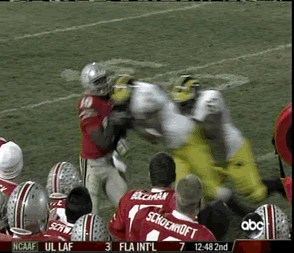 "Ahh! We're missing the Florida International game!"
I heard Coach Carr talking on the Huge Show on WTKA about the captaincy at Michigan. Huge aka Bill Simonson (by the way, the coaches didn't refer to the host as "Huge" thank goodness) was pressing Carr if a national championship would be one of the teams goals. Carr said that's up to the captains and the team to decide, but added "if they're playing a game somewhere for something, we want to be in it."