Ed. On Saturday the 1964 championship team will be honored during the Minnesota game. Earlier this year I spent a couple hours with the (lone) captain on that squad, Jim Conley. The full version of this story is available in mgoblog's wonderful annual Hail To The Victors mag. Given it's their week, here's a tighter and yes, less spicy, version of the story of that great season.
See Part I: Starting from Nothing
See Part II: The Season
Getting Business Time
The trip to the Rose Bowl was conducted in two distinct phases – party time and business time. The first portion started off with the usual tours, some time to hang out and a bit of partying. And the team lost focus.
"Chrysler gave us a car for every 4 guys," Barry Dehlin recalled. "For the first week, you had a bunch of 20-year-old guys out there and we were partying."
But as young men tend to do, they took advantage of their celebrity status with the California coeds. "We go to Disneyland and the next thing you know we're in our hotel room and there are eight or ten of the Disneyland tour guides," Conley recalled. And the captain wasn't immune. "We went to the Whiskey a Go Go. The girls are dancing and all that, and let's just say we had some guys that were good at what they do, you know what I mean?"
"I'll never forget, we're walking into the hotel. There's Bill Laskey with me and a couple of other guys. We've got these damn girls with us with those frilly skirts shaking around. As we're walking down the hall [assistant coach] Jocko Nelson walks by, looks at me and says, 'Captain Conley.' And I go, 'Coach Nelson.' And we just kept going right on by. [laughs]"
Bump understood that the players were susceptible to be caught up in the off-the-field distractions and warned them as such–but he let them slide a bit in the beginning. "We were a little bit more lenient about some of the places we let them go and how late they stayed out," Coach Elliott recalled.
Eventually the team got down to the business at hand and Conley gathered up the seniors for a chat. "I told them we have to get back on track. We have to focus. And I added, 'I'm probably the worst.' And everybody goes, 'Yeah, you're the worst!' So I told them, 'Well you know I'm a natural born leader!'"
After that first week Bump addressed the team as well, telling them to get their heads back into it. But as Dehlin recalled, what truly registered were the simple words uttered by Coach Mason. "Talk about a master of psychology. He told us, 'I'll tell you something, you are a bunch of good guys—-you used to be good football players.'
It just hit everybody. For the last week, everybody was in bed on time and focused."
Game day in Pasadena always seems to bring perfect weather and January 1, 1965 was no different. After a scoreless first quarter Oregon broke through and tallied the game's first touchdown. Down 7-0, Conley had enough. "I gathered everybody together and said, 'This game is over. We didn't come this far to lose."
"That was it. We demolished them."
There's no other way to put it. Mel Anthony dashed for three TDs and for 123 of U-M's 332 rushing yards in the 34-7 beatdown. Oregon State's coach Tommy Prothro later called the 1964 Wolverines the best team he'd ever seen, adding, "There were times when our players blasted Michigan players at full speed and only wound up flat on their backs." He added that he'd never seen such hitting.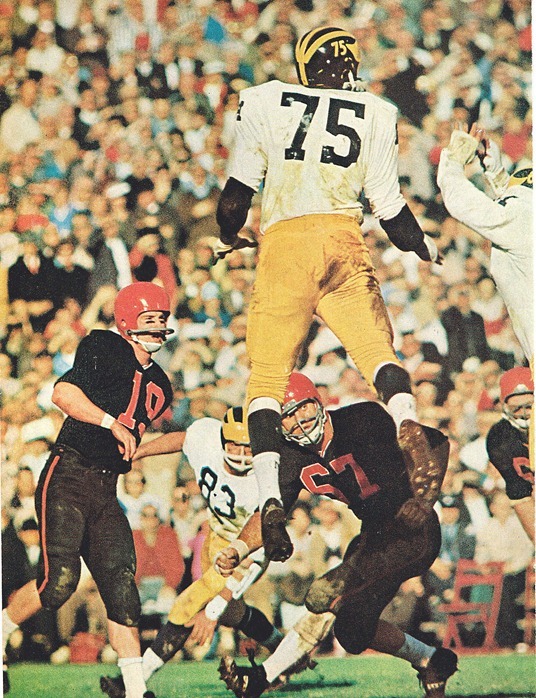 All-American Bill Yearby (75) at the Rose Bowl – love this photo
The Forgotten Champions
Conley and his self-described group of losers finished a brutal schedule as undeniable champions of the Big Ten and captured Michigan's first Rose Bowl victory since 1951. The dominating victory in Pasadena was a feat delivered to that point by only three other Michigan teams including Yost's 1901 squad and Fritz Crisler's 1947 Mad Magicians. Those teams have a permanent place in U-M football's Valhalla—yet clearly the 1964 champions are not only overlooked by M fans, it's fair to say they are widely ignored. Why?
Perhaps it's because Crisler and Yost wrapped those victories in Pasadena within stellar coaching careers. Maybe the Detroit newspaper strike in '64 put in the team in relative obscurity—and no one was there to tag the team with a catchy nickname [see "Mad Magicians"]. Perhaps the team was overshadowed by Bo's spectacular arrival and consistent dominance.
Whatever it is, it's wrong, and Conley is quick to defend his team's place in history. "Today everybody looks back to Bo and the 1969 team—a team that went 8-3 and didn't even win the Rose Bowl–as the team that turned Michigan around. I don't think so. What turned Michigan around was the 1964 championship team. That turned Michigan around. It put Michigan back on the map."
Perhaps. But one thing is for certain – there's no denying the greatness of the 1964 team. Sixteen players went on to play pro football including tackle Tom Mack, who landed in the NFL Hall of Fame. The championship certainly helped Bump attract more top talent to Ann Arbor, leading to the 8-2 1968 season and of course, filling the cupboard with the men who led Bo Schembechler's beloved 1969 squad.
Elliott acknowledged the title helped get the attention of recruits. "People would like to join that type of a team. That was really important to our program because we needed that and they really made the difference. We had good talent and good people coming in and I think it went on from there. Of course thank goodness we even left a few players for Bo. [laughs]"
Bo recognized Bump's influence—clearly. In the aftermath of the epic 24-12 win over #1 Ohio State in '69, Schembechler summoned Elliott to the front of the players and presented him with the game ball. Elliott still has that pigskin at his home in Iowa City.
Call To Action
If you've made it this far—a simple plea. When these men and the 50th anniversary of this great season are honored at Michigan Stadium on Saturday afternoon, stand up, tip your hat and give them the recognition they truly deserve.
———————
Part I: Starting from Nothing
Part II: The Season