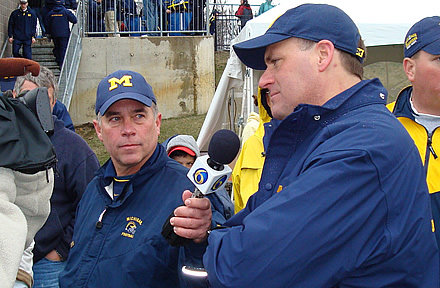 Check out Jim Carty's blog tonight. Carr told Bruce Madej [above, with Coach Rod at the Spring game] that the Columbus Dispatch report that claims Carr helped Justin Boren land at Ohio State is false:
Carr denied the Dispatch report via Michigan athletics spokesperson Bruce Madej, who said the coach was unavailable for an interview Friday night.

"Lloyd told me that's a lie," Madej said.
Here's the claim made by a "source" to the Dispatch:
Maybe they should take a cue from previous Michigan coach Lloyd Carr, who according to a source close to the situation worked behind the scenes to help Boren obtain his scholarship release from Michigan. Carr even assured Boren that Ohio State is the closest thing to Michigan that he would find and that there are "good people" in Columbus.
Elsewhere: As Coach Rod advised during the his 'On the Road' tour, sometimes you just need to let those who stray from the V formation go off….and die (geese metaphorically). Let's focus on those that are here and that means some recruits. So while everyone's still excited about Virginia QB Kevin Newsome, here's a Spring Game outtake of Coach Fred Jackson closing the deal: