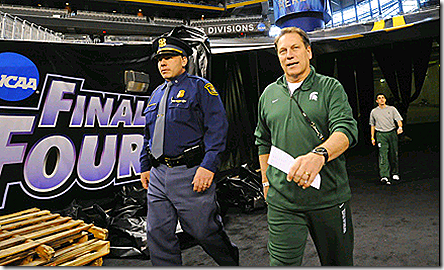 Izzo with, if my instincts are keen, Sgt.Lt. Krumm, former Spartan football player
(photo: Detroit News)
Via UM Tailgate, mad props to Tom Izzo from Lloyd Carr, straight from Pete Thamel of the New York Times:
DETROIT — At the end of a telephone conversation about the Fab Five and cheating in college sports, the former Michigan football coach Lloyd Carr added one request.

"If you see Izzo, tell him I'll be cheering him," Carr said of Michigan State Coach Tom Izzo. "He and Jud Heathcote, those are two of the best guys in the game."
It's not clear where UM Tailgate sits on this based on the title of the post ("Noooooooooooooooo. No. No. No. No. No.")
Me?  My title UMT-style title would be "I'm fine with this but it'd be more funnn if Carr ripped Izzzzoooo!"
This is probably a real kick in the pants to many of the Michigan faithful (see Rick Leach) who feel Carr should vocalize his support for Rich Rodriguez, that is, if he supports Rich Rodriguez.
RELATED: As he notes Thamel's reason for the call to Carr was to discuss the Fab Five and NCAA indiscretions.  He takes a look back at the Fab Five in the Quad Blog:
But as the years passed, the grand jury testimony was heard and the N.C.A.A. erased their accomplishments, the Fab Five image has threaded that uncomfortable line between immortal and infamous.
And while Thamel couldn't track down the deceased Ed Martin, he did track down his son Carlton who suggests that his dad deserves <gulp> some credit for the success of the Fab Five:
"It's impossible to get the credit from the position he was in as far as the Fab Five or any of their success," Carlton Martin said of his father. "But he sure is definitely deserving of some of it. Not all of it. Nowhere near that, but just to be the glue that kept some things together."
Yes, it was a special glue that actually breaks things into ugly little pieces.  Please stop talking to Ed Martin's family.
Update 4/3: Jim Carty caught the glue comment as well and adds his perspective.
No matter what Carlton or the Fresh Prince or whomever says about this matter, it's not going to come to anything.  It's over man, they already dropped the big one.
One comment to Jim (who I believe is buddies with Thamel): Is it fair game to use the guy's son as a quoted source for this story?   I guess part of what matters is how old his son was when this all went down.   It's certainly an interesting perspective and a wild quote but what else would the man's son say?
Many feel one of the worst humans alive is O.J. Simpson.  Do we care what his kids think of him?