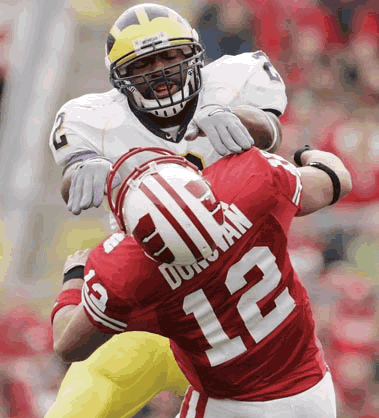 There was a lot of question as to whether Hart and Henne would play in this one given that the game is essentially meaningless (thanks to ESPN for reminding us of that like 70 times during the game) to the team's goals.
Give credit to the Bagders because they played hard, with QB Donovan making some great plays but…it's clear Michigan pulled its chips off the table for this one. It goes without saying but Henne and Hart would have played had the team wearing red was from Columbus.
It's a bit of a concern that no one on defense rested and at times Donovan and the Badgers sliced them up. Not a good way to go into the Big Game but what can you do? Obviously would have a been much different with H&H intact.
As for Mallett, he started out pretty slow missing a W-I-D-E open Arrington that would have been a touch had the ball been within 20 yards of #16. Mesko could have punted the ball to Arrington. Mallett never really settled down; throwing some pretty weak balls and making some poor decisions.
I don't know what Manningham's problem is but he's got to understand that Mallett is going to make mistakes. His 97-yarder was pretty sweet and it easily became the longest TD catch in Michigan football history, shattering DA's record: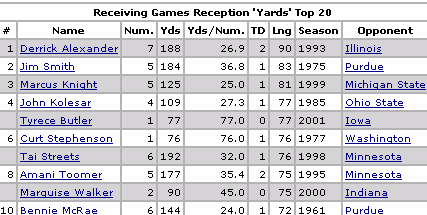 All told no matter. Going into the game I would have traded a win in Madison for a third down against the Buckeyes. All that matters is Saturday. The biggest concern is getting Henne and Hart in position to play the whole game.