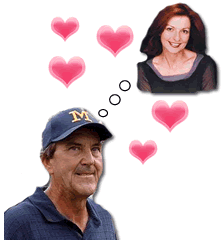 Oh my nerves are shot. You get the feeling we really haven't scratched the surface on the man that is Lloyd Carr. I just saw this link on mgoblog's m.go.licious links.
Pete Thamel of the New York Times was on campus this week and spent some time with our coach. According to his post Another Side of Carr, Thamel reveals prior to his Monday presser Carr approached him with a question, ""Do you know Maureen Dowd?". Carr went on to praise Dowd for her intelligence and style.
Dowd of course writes the 'Liberties' Op-Ed column in the Times and is a big time liberal. Along with Thomas Friedman, she is part of the A-Team of columnists appearing each week on Wednesday and the coveted Sunday editions.
I doubt that a copy of the Times never made it to Bo Schembechler's desk during his days roaming his building on State State, and if he ever got wind of Carr's praise of Dowd you can bet he have a few words.  Old Bo was a vocal conservative and I'm sure he kept things that way inside Schembechler Hall.  Is our man Carr turning the political leanings of the athletic department toward those of our students, faculty and town?
Elsewhere: Check out this week's Sports Illustrated's piece on the Detroit Lions practice squad featuring Ron Bellamy, "a former Michigan standout" haha.