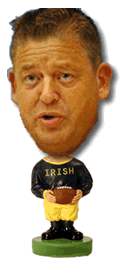 WJR's Frank Beckmann asked Lloyd Carr to react to the "To Hell with Michigan" comments from Notre Dame Charlie Weis.
No surprise, Carr took the high road but suggested that Bo made his "To Hell with Notre Dame" comments "after he was out of coaching".
Carr reacts to Weis comments
Play Now
|
Play in Popup
|
Download
You can hear the entire interview here. HT: Michigan Sports Center.