Straight to the miscellanea: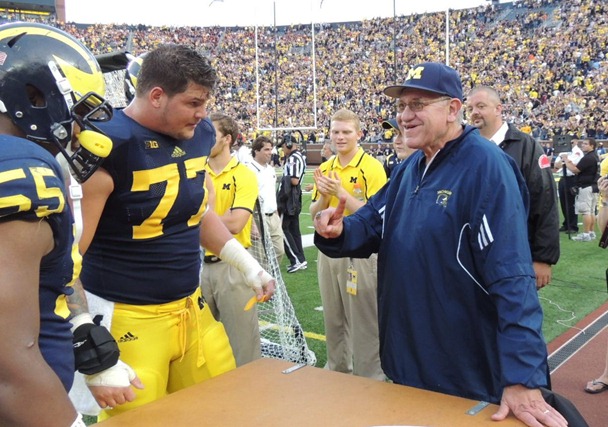 Honoring Falk > Postgame:
Q. For the last 40 years your equipment manager Jon Falk has been the keeper of the jug. Any last words about Mr. Falk and knowing he's got the job one more time that concludes his tenure here?

Hoke: "Well, we gave it to him when we got in the locker room. I just hope he doesn't take it home. But no, very emotional, very happy. Jon, his loyalty to Michigan and Michigan football is special."
I caught up with Falk after the game as he was heading out of the stadium. He told me when he got the jug he told the players, "There's no coach & there's no player bigger than Michigan football."
Uniform notes > Team wore LHS decal in honor of Lucas, son of former All-B1G tackle Adam Stenavich. As Sap pointed out, that's the first non-player or coach to be honored in such a way (POTUS Ford, Bo, Ron Kramer). Timeline updated.
Mood > Slight uptick, but that was way closer than the score of course and..well…meh: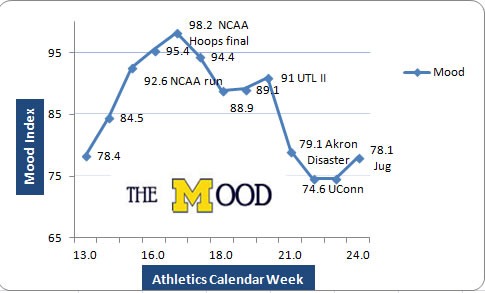 Jug History slaughtered but forgiven > At the conclusion of the broadcast Mike Patrick absolutely butchered the history of the jug, talking some nonsense about Minnesota taking the jug to Michigan and the crock being made of clay from the 1930s….Say what? Shoe and Bando were all over it and while I didn't hear it live, I felt a strange disturbance in the Jug force..as if millions of voices suddenly cried out in terror and were suddenly silenced. In 10 seconds Patrick sent jug history back to the 1930s.
All that said, ABC is forgiven thanks to Ed Cunningham who, with 2:45 left in the first half, said this:
"And they are playing of course for the Little Brown Jug, which is played for every year between Michigan and Minnesota. And there's was an old story that Yost..it was a water bottle, and he left it at Minnesota and called and said, 'Hey can we get our water bottle back?', a thirty cent water bottle. They said, 'No, come and get it next year if you win.'"

"Well that's not true, that isn't actually what happened."
Bless you Ed. You just earned a beer or a mixtape compliments of MVictors.com. Glad someone out there is listening. Best guess? Ed caught my article in the game program as part of his prep or heard me on WTKA or WWJ driving over to the game.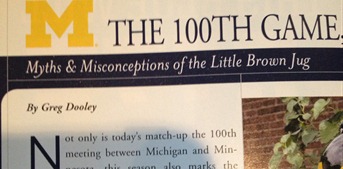 Hurry Up > Ed C's take was prompted by the answer to the Aflac trivia question: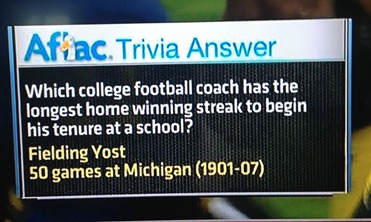 Penn broke that streak on November 16, 1907 when they took down the Yostmen 6-0 on Homecoming. And speaking of that streak, it was a mere two wins long when on October 5, 1901 Yost delivered a 57-0 beating of Case for all-time win #100 the program.
Timeless > My "Oscar Jug" replica made it home and is chilling in my office. A huge thanks once again to artist Jil Gordon for making it for me. What a great spot to set another timeless possession: my MaraWatch: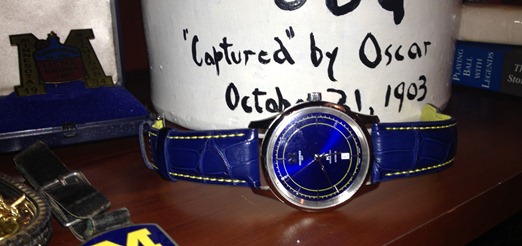 Elsewhere:
Maize & Blue Nation: On Falk. Photos. 5 Takes including this on Funchess:
I don't see any defensive backs under 6 feet being able to defend this guy. By the time Michigan is playing Michigan State, he will command a double-teams on every route.
mgoblog: Press Conference Wrap. Photos.
Touch the Banner: Takes galore.
Maize and Blue News: Recap
More from this site: