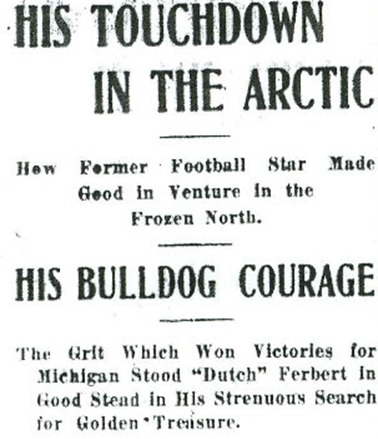 This edition of #TWIMFbH goes back to the 1800s, first to discuss the history of the Alumni Association, then we look at former U-M player and 1899 head coach Gustave Ferbert.  Coaches weren't paid like they are today, and "Dutch" Ferbert actually hung up his whistle to seek his fortune in the Alaska gold rush!
Here's the clip:
TWIMFbH is sponsored by Hillside Terrace of Ann Arbor.  This segment can be heard on the Keybank Countdown to Kickoff and you can listen live on 1050AM in Ann Arbor & on wtka.com around the world.  This segment plays approximately 2 hours before kickoff each week.
You can hear the archive of This Week in Michigan Football History clips here.    If you have suggestions for future games hit me on Twitter @MVictors.  Go Blue!
/script …after the jump