Hoops season rapidly approaches so next up on eBay Watch we've got a beautiful wire photo from 1957 featuring multi-sport letterman Ron Kramer trying to block a shot against Purdue: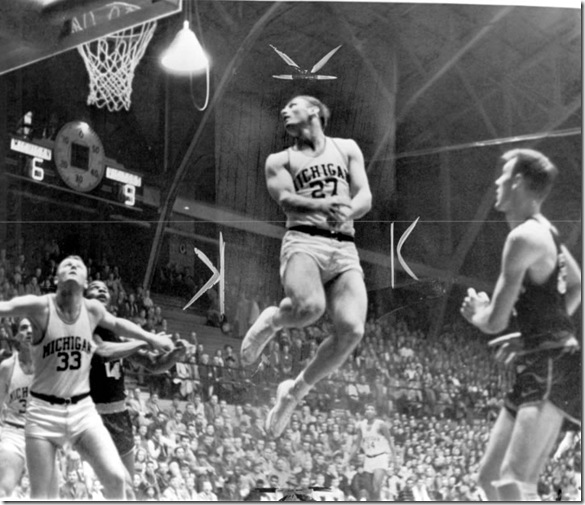 It's a wonderful shot and offers a view of basketball inside Yost Field House in the 1950s, with digital scoring?.  Michigan defeated the Boilers 66-54 on this February day thanks in large part to captain Kramer's 17 points.   And those hops are not just the result of the camera angle: Kramer was a high jumper on the track team and was known to trot over from the football practice field and smoke fools at the high jump in meets.  He finished that basketball season as Michigan's all time leading scorer.
Kramer is best known for his exploits on the gridiron of course, but I've heard that he had an unbelievable gift as a cager.   His exploits on and off the field/court/track are chronicled in the book, That's Just Kramer!  
Speaking of old Yost, coincidentally there's another wire photo for auction, this one featuring halfback Tom Kuzma along with a great view of the old structure in the background from 1942: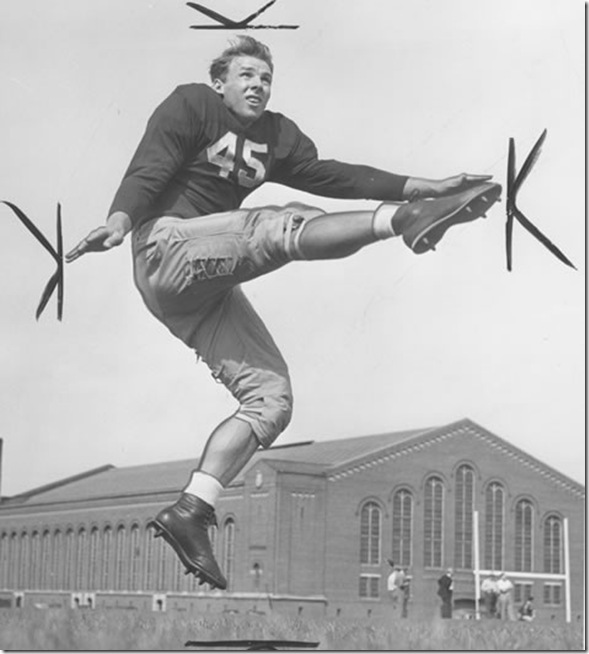 Kuzma followed Michigan legend Tom Harmon to Michigan from Gary, Indiana, and it looks like he had a fine career cut short by World War II.   The kick for the press above wasn't just for fun, Kuzma was a formidable punter, some say the best since Harry Kipke performed the duty for Yost in the 1920s.
The auction of the Kramer photo ends October 18 with a starting bid of $9.99.  The bidding on the Kuzma shot ends the same day.
Related:
1952 Michigan Game Uniform (1952)
The 1954 Bust (1954)
Coaching Legends in Atlantic City (1957)
How about this schedule? (1957)