This week's look at the AP college football poll vote. 
After reviewing each of the voters' rankings here's a few things that stuck out:
Top Slots: For the third straight week, every voter has either Florida, Texas or USC in their top 3.  The exception once again Jon Wilner of the San Jose Mercury News.  He had USC in Week 9 (who then lost the following week), then he put Oregon in USC's slot at #2 in Week 10 (who of course lost yesterday).  He now has Cincinnati at #2 and put Florida at #4.   Milner gets the hate mail award this week, no doubt getting some from Gator fans.
Overslept:  Last week ESPN/ABC's Kirk Herbstreit didn't get his ballot in due to some logistical issues.  This week Alex Abrams, a writer from Arkansas, failed to get his ballot in.  [Ed 11/08 9PM – I found this tweet from Abrams – "Also, Pollspeak tweeted that by AP Top 25 ballot was missing today. But because of recent change, Robbie Neiswanger has taken over my vote."  I'll include Neiswanger next week.]
Top 10/Region – Here's the national vote, spliced by the region of the voters (Central is effectively Big 12 country, mostly dudes from Texas):
Big Ten by Region –Here's how the Big Ten (and Notre Dame) was rated, by region.  The lone vote for Notre Dame (?) came from Glenn Guilbeau of Louisiana, who Weis and company #23.  Maybe we can convince Glenn to give the Wolverines a look next week?  Folks out West really crushed the Big Ten, slotting the Buckeyes at #13 on average.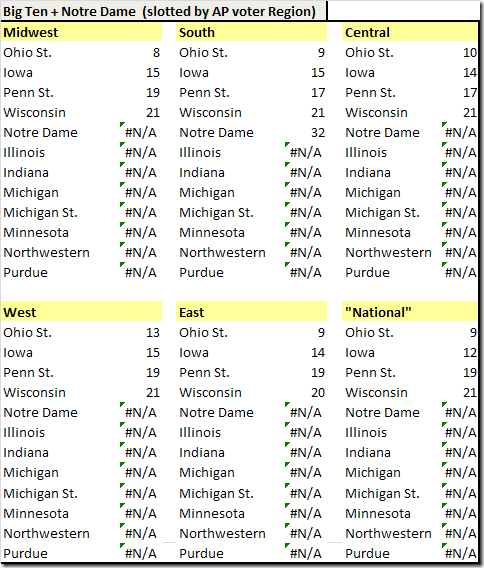 Angelique.  Here's how The Angel of the Big House put her vote the past three weeks.  Her opinion of the Big Ten teams is pretty interesting as she was obviously impressed with Ohio State's win, taking them all the way up to #7 which was the highest placement the Bucks had by any of the 59 voters.  Conversely, she dropped the Hawkeyes all the way to #21 after their brutal loss to Northwestern which was the lowest anyone slotted Ferentz's crew amongst the media.  Sidenote:  I interview Angelique last week about the AP poll process, etc., and I'll publish that later this week.  Here's her ballots: