Another nice win as Michigan pulls away in the second half to take down Ron English and the EMU Eagles.  Tip of the hat to English whose squad put together a gutty first half and played hard throughout.   It's easy to forget about the giant holes in our defensive line when guys are sprinting for touchdowns right and left (or north and south I guess), but it remains a concern. 
Miscellanea:
QB Depth:  As Tate Forcier lay flat on the ground with his face in the turf, visions of sugar plums and roses (which remain on the far right of the possible season outcome continuum) got a bit blurred.  Denard's two poor passes over the middle show he's not ready to be the quarterback of this team and that's not a shock.  Big things could happen with Forcier at the helm but if he goes down and Robinson is inserted, we become a better team than 2008 but not much more.
Speed:  There are many reasons to be giddy about this season, but we're seeing that promise of speed with three demonstrations that are on par with any burst we've seen in years, maybe since Steve Breaston in the 2005 Rose Bowl.  Consider (I'm going to collect these like when fans put up K's at baseball games):
Robinson's fumble-turned-touchdown run against Western.
Stoneum's kick-off return against Notre Dame, when he was 100% gone well before he reach midfield.
And now add Carlos Brown's 90 yard jaunt yesterday.
Punt option:  This prompted a rare in-game post, but I'd love to see Rodriguez consider dropping in the punt roll-out option with Mesko once again especially on those fourth and short situations.  I hated that thing at first but with Zoltan back there handling it I'm completely comfortable after watching how it was employed last season.   And speaking of special teams, if you wondering how the Wolverines didn't get a piece of this punt, this will only help a little bit (from the M photostore):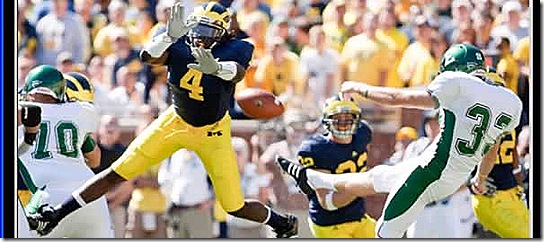 The Delany Film Festival:  Boy, I completely agree with Rodriguez on his disappointment with the Big Ten's decision to step in suspend Mouton.  And it's a personal slight against Rodriguez, suggesting he's not imposing proper discipline on his players.  That "punch" was nothing.  At best, this deserved a discussion after the game with Mouton and maybe some M stadium steps—but that should be left to Michigan to decide.  That said…
…someone needs to tell Rodriguez to suspend the Delany Film Festival.  He was embarrassed by the commissioner and that was wrong, but to start a public campaign to challenge the Big Ten by poring over game films to find players behaving badly?  I didn't hear the quote first hand, I assume Rodriguez wasn't joking about this.  The right thing to do would be to have a conversation with Delany to understand why the Big Ten did what they did, share his disappointment and then quietly move on.  He did speak with Delany but that's not exactly how it went.  If Rich Rod is behind this, one of his trusted inner circle guys needs to tap the Emperor on the shoulder and tell him to direct that energy elsewhere.  Where is that going?  Michigan finds tape of player X kicking player Y, suggests the Big Ten suspends player X, Conference takes no action, Michigan cries hypocrisy, rinse, repeat?  Drop it.
Square Dancing?  Colde English?  Nice to see former Michigan coach Ron English and Rodriguez share a nice embrace at midfield and exchange pleasantries after their hard-fought battle (via AnnArbor.com and the great Lon Horwedel):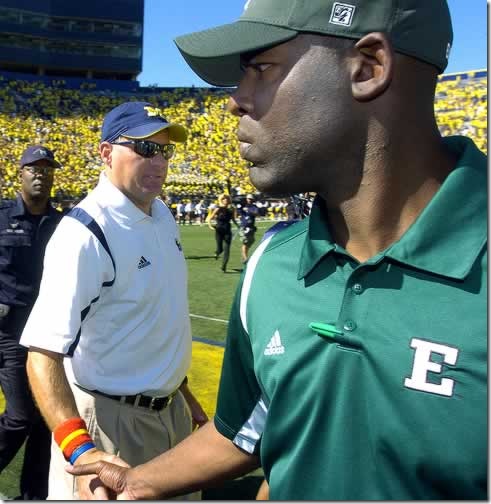 Yikes.  OK, so read what you want but select one of the below:
      a) English is still pissed about not getting a good look from Rodriguez for the defensive coordinator position last year, especially after RR went with an outsider.
      b) There really is a Coach Carr camp that doesn't like Rodriguez
      c) English was pissed that Denard Robinson tossed a bomb later in the fourth quarter up four touchdowns
     d) English was pissed that guys like Graham and Warren were still in the game with 5 minutes to go
     e) All of the above.
Elsewhere:
Michigan State/Notre Dame:  I'm still trying to gauge what kind of teams Notre Dame and MSU have right now, but what a game in South Bend.  Cousins' interception was awful and awfully inexplicable considering the game he managed all day (other than when Dantonio put Nichol in, which I don't understand).  I was impressed with State and I love Blair White.  I see the October 3 game as a toss up right now, maybe slight edge to the Spartans.  All in all, not a bad outcome for Michigan fans: one rival loses, and the other loses their best player.
Bad Booth:  One thing I can't get over is the not-TD catch by Floyd where he broke his collarbone.  I'm not sure what the bigger crime is to the replay officials:  not asking for a replay in the first place (umm, on a frickin' play in the endzone, is that one we should look at….?) or, after Weis challenged, not seeing that Floyd easily made the catch and had one, probably two feet in bounds.  AT BEST – the replay guys punted saying the didn't have conclusive evidence that he had enough control, but that's really a thin argument given what NBC showed.  Why do I care?  That's incompetence man.  Delany should suspend those guys for the season.  Or punch them.  Or make them run steps with Mouton.
Carroll.  Dude, fool me four times, but come on with the love affair of Pete Carroll and his uber-laid back teams, and towel-snapping Friday walkthroughs, and the rock 'n roll lifestyle blah, blah blah.   He's now lost to below average UCLA, Stanford, Oregon State and Washington teams in the past few years yet all we do is paint Carroll like a god, often wearing a thong.  Bill Plaschke in the LA Times took a few shots and added this observation, lol:


The path got longer afterward, when several USC players were seen loudly examining stat sheets in the locker room, never a good sign after a team loss.