Prior to the Purdue game I sat in for a segment on WOMC's Tailgate Show.  Just before I went on the air, host Lucy Ann Lance summoned over Peg Canham, widow of legendary Michigan athletic director Don Canham.
Mrs. Canham was wearing a stunning necklace and it caught my eye.  Lance knew a bit about it and mentioned that it was a gift from the former AD, made from an old Wolverine football championship ring.
I wanted to know a little more, so I connected with Mrs. Canham afterwards and she was kind enough to send along a photo: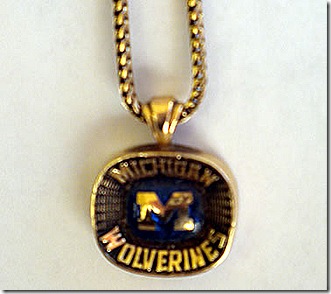 I knew there was something very familiar about her necklace, and it didn't take long to figure out why.  I've featured a few Michigan championship rings on eBay Watch over the years including this one from 1977: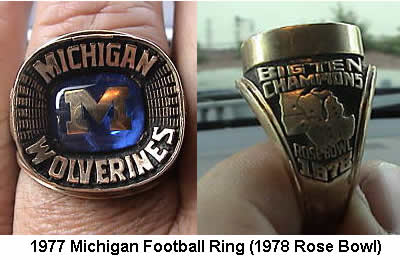 Along with the photo, Mrs. Canham was kind enough to share a few memories about the ring. "He surprised me with the necklace for Christmas shortly after we were married in 1995," she told me.  "As I'm sure you can figure Don had a jewelry box full of rings but this one was always my favorite because it is the Michigan Stadium, and he knew it."
She also noted that in the famous photo of Don Canham at his desk (the same one you can find inside Yost Ice Arena on the west wall), the legendary AD is wearing that band, back when it was merely a ring: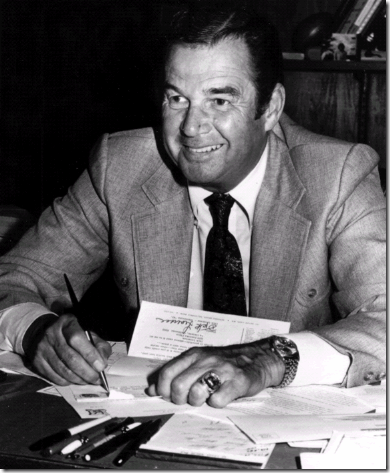 Don Canham wearing the would-be necklace (courtesy of Peg Canham)
Outside of Ann Arbor, Don Canham is probably best known for revolutionizing the concept of marketing college football and athletics in general.  According to Peg, some of those who worked with directly with him might remember him as "a gruff, tough and 'all business' type of person."
Not true says Peg.
"In actuality he was a very kind, caring person.  He loved children and always went out of his way for them.  This necklace was just one of many sweet things he did for me."
As we know, while sadly many of these mementos end up in boxes, attics or <gulp> even eBay, this one isn't going anywhere.  "Now that Don is gone I treasure this keepsake more than ever," Canham shared.  "I miss that guy every day!"
Currently Mrs. Canham is working on setting up an elite honors program in Sports Management in Don's name within the U-M School of Kinesiology.    The intent, according to Canham, is "to make it the premier program in the nation taking only the top 10-15 students for this two year program."   Details are still in the works and she's already working on contacting potential donors and other U-M affiliated organizations.
What a great idea.  Oh, and when can I apply?
Related:
* Michigan football needed a turnaround. Enter Don Canham.  Daily interview from 2004
* From the Inside  Book by Don Canham  
* Canham items on eBay