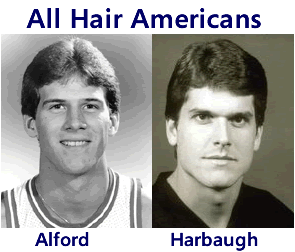 College Football News opined this morning on the possibility that Jim Harbaugh, who was named the next Stanford head coach this week, could be a candidate for the Michigan head football job after Lloyd Carr decides to pack it in. Here's the take :
Obviously it is too soon to really start speculating, but do you see Jim Harbaugh as a candidate to replace Lloyd Carr at Michigan when he eventually retires? – KH

A: Just like everyone wanted to see Steve Alford become the main man at Indiana, Michigan fans are going to be all over Harbaugh if he has any success at Stanford. Let's wait a little bit before kicking out Carr, like you suggested, and let's also wait to see if old No. 4 can handle himself at the never [sic] level. The Michigan job, whenever it opens up, will be one of the premier gigs in all of coaching, college or pro. There'll be a who's who of candidates fighting for the job. This won't be Alabama; the big boys will be lining up.
Memo to CFN: I don't think the email said anything about kicking Lloyd Carr out! How did "after Lloyd Carr decides to pack it in" become a boot out the door? God the national media loves to talk about how Michigan fans want Carr out.
The Alford comparison is a good one. While I don't think Harbaugh holds quite the place in Michigan history as does Alford at IU (high school legend, national champion), I think Harbaugh's place in Michigan history gains some status as he is arguably the greatest quarterback in the history of the school. And Indiana fans take this: Michigan's football tradition is greater than your basketball tradition. A comparison that CFN missed? Both guys have great hair – no argument there from the ladies.