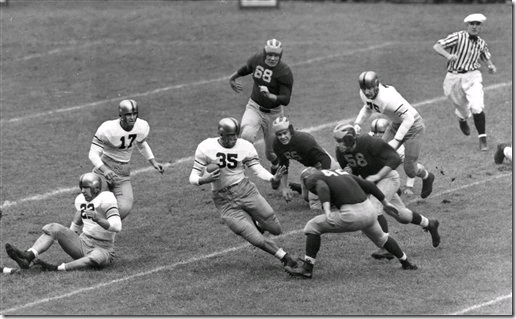 Associate Press photo from Yankee Stadium [Nice tackling form by Teninga (42), and what's the deal with Ref-Boyardee's hat?  Does he toss flags or pizza dough?]
One of the nice things about following Michigan football history is that many of the biggest names in the history of the sport seem to cross paths with Wolverines at one point or another.  Consider Michigan's battles against Red Grange, Bronko Nagurski, Archie Griffin, and more recently, Vince Young and Tim Tebow.
This morning I learned that Doc Blanchard, Army football's great back, died at home in Texas.  The 1945 Heisman trophy winner was 84.  From 1944 to 1946, Blanchard and Glenn Davis formed a nasty backfield that helped the Cadets roll to a 27-0-1 record.
Fritz's Crisler's Michigan men squared off against the Army machine twice, in 1945 in New York and again in 1946 in Ann Arbor.
The first battle was held at Yankee Stadium on October 13, 1945 and the Cadets rolled through Crisler's men 28-7 in front of nearly 63,000 fans.  The next day the Chicago Tribune declared, 'ARMY WHIPS MICHIGAN' and started the game summary like this:
Michigan sent its young football men on a man's errand this afternoon in Yankee stadium.."
It's a man's game.  And the two biggest men of all were Blanchard, who ran off tackle for a 69 yard touchdown in the second quarter, and Davis, who added a 70 yard score in the fourth.  Between them they covered 370 yards on the ground, with Davis adding 47 passing yards.  Mercifully the Tribune featured a photo where apparently Michigan stopped Blanchard (the same as the AP photo above, enhanced with the Trib's graphics):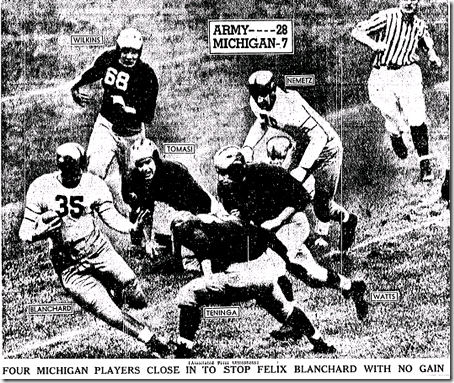 The Tribune's account gives some credit to Crisler's men for battling hard, in fact, Michigan nearly tied the score at 14-14 before fumbling away the possession.  After that Army's machine took over, rolling to the 21 point victory.
The game holds more historical significance than just two great football powers meeting in the House that Ruth Built.  The battle against Davis and Blanchard prompted Fritz Crisler to employ a strategy of substituting or 'platooning' players, the first time in college football.
Sports Illustrated writer Gerald Holland wrote a wonderful piece on Crisler in its February 3, 1964 issue titled, 'The Man Who Changed Football'.  Holland talked with the old coach about the origins of his substitution strategy:
What made him decide to go to platooning in 1945?

"Sheer necessity. You see, almost all colleges were playing freshmen at the time, because the older boys were in the service. Now, before the Michigan-Army game I figured that I would have to start nine freshmen against Red Blaik's great Blanchard-Davis team. By comparison with Michigan, Army had a team of mature men. I asked myself, 'How are our poor, spindly-legged freshmen going to stand up against these West Pointers all afternoon?' I knew I would have to spell them off during the game. So I picked our best defensive men and said, 'When we lose the ball, you fellows automatically go in.' Then I got my best offensive men and ball handlers together and said, 'When we regain possession, you fellows automatically go in.' As it turned out, I only platooned the lines, and the linebackers on defense. We lost the game 28-7, but it should have been much, much worse.
Michigan faced Davis, Blanchard and the Cadets again the following season, this time in Ann Arbor before nearly 86,000 fans.  A very nice game summary can be found here.  Crisler unleased another surprise, this time a 4-4 defense with four linebackers stacked in the box to contain Davis and Blanchard.   The game in the Big House was much closer than the 1945 battle, with the teams exchanging scores twice to knot the game at 13-13.
In the fourth quarter Army strung together a 76 yard drive for the game winner, a Blanchard touchdown, to make it 20-13.  A late drive by Michigan was stopped by Davis deep in Army's territory.
Davis died of cancer in 2005.