Closing thoughts on UTLII > An incredible night, another great show on and off the field and as discussed earlier I thought #1000SSS did an outstanding job with the Harmon presentation.  More:
Series notes –  via Natural Enemies author John Kryk.   [Hey John, after next year's game, will we have a updated leatherback final edition of NE?]
Devin ties 2 M-ND series records, both set by Denard in UTL I with 4 TD passes and 5 TDs total (responsible for).
Gallon (or as the Canadian Kryk calls him "Four Litres") tied Mario Manningham's 2006 series record for most TD catches (3).
Uni-tweaks – The Uniform Timeline has been updated with the Legends info.  Two points brought up by readers that are still under review:  1. Sap says the numbers on the jerseys are a little larger in 2013, and 2. reader Pat says the adidas logo is bigger this year.  I think they are both correct – discuss:
Mood? – Great.  Not quite Final 4 great, but creeping up.   Thanks again to Scott at The Blockhams for the artwork: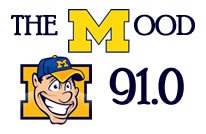 History bits – via mgoblue.com Notes
Today's announced crowd of 115,109 sets the all-time attendance record for a football game — college or NFL — and breaks the Michigan Stadium attendance record. The previous Michigan Stadium record was 114,804, established at U-M's previous home game vs. Notre Dame on Sept. 11, 2011. It also marks the 246th consecutive game of more than 100,000 fans at Michigan Stadium.
The Wolverines improved to 24-16-1 in all-time series against Notre Dame. Michigan has won the last three of the last four meetings in the series. U-M owns a 14-7 mark all-time against Notre Dame at Michigan Stadium, including wins in each of the last four home meetings.
Tonight's victory was the Wolverines' 400th in Michigan Stadium history. Michigan is 400-120-15 at home since the stadium opened in 1927.
Gardner's 376 total yards rank as the ninth-greatest single-game effort in Michigan program history.
Gibbons established a new Michigan program record with 16 consecutive field goals. He also extended his consecutive PAT streak to 110. He took sole possession of fifth among the Wolverines' career field goal leaders with 33, breaking a tie with Haji-Sheikh (31, 1979-82).
Shady is Crazy – I caught the Eminem booth visit after hearing how crazy/awkward/bizarre/drug-induced it was on Twitter, etc., during the game.   Beyond the face he made in the beginning, I just thought it was a guy giving a bad interview – no energy, struggling with what to say, etc.
Eruption Averted – Had the Irish defender not snagged Gardner's pass in the endzone, #98 should have been flagged for intentional grounding and Notre Dame awarded a safety, correct?   No M man was in the area and Gardner wasn't out of the pocket.   But the refs didn't throw flag.   If the replay showed ND didn't make the catch, the ball would have had to gone back to the line of scrimmage (you can't toss a flag after the fact, right?) and Kelly would have gone ballistic.
Dubbing Devin – Craig from Hoover Street Rag suggests we call Gardner 'New 98'.   Brad from Maize & Blue Nation took it a step further suggesting we go with 'New 9D8'.   Yessir.
Elsewhere:
Follow MVictors on Twitter and a huge thank you to the 10,000+ followers