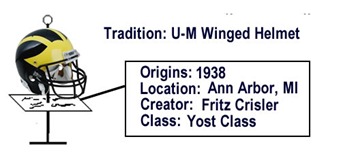 Lloyd Carr loves the traditions of Michigan football. On the day of Coach Carr's 70th birthday, let's have a look at Michigan traditions.
This was originally developed in 2013 after a draft was floated out there with a lot input from Craig of The Hoover Street Rag, David of @mgoshoe and others. Its permanent home is on the 'Traditions' page (also accessible on the menu bar above).
Notes:
Individual game or career accomplishments are verboten beyond events that transcend the field. Heisman Trophies count. The Desmond Heisman pose counts. #Braylonfest" does not. Tom Harmon's exploits at Cal and Columbus in 1940 do not.
A tradition must be something unique to the Michigan football experience or history. "Tailgating", for instance. is certainly a Michigan tradition but not unique.
I'm responsible for the classification of each tradition. And yes, I think traditions can move up or down over time.
Yost Class:
Michigan Stadium (1927)
All-time wins/winning percentage (1879)
Winged Helmet (1938)
Ohio State Rivalry (Ten Year War, The Game..) (1897)
11 National Championships (1901, 1902, 1903, 1904, 1918, 1923, 1932, 1933, 1947, 1948, 1997)
The Victors (1898)
Schembechler Class:
GO BLUE banner (1962)
Michigan Marching Band (1898)
42 Big Ten Titles
First Rose Bowl (1902)
Heisman Trophy Winners (1940, 1991, 1997)
Notre Dame Rivalry / Teaching Notre Dame to play football (1887)
"Those Who Stay Will Be Champions" (1969)
Point-A-Minute era (1901-1904)
President Gerald Ford (1932-1934 player)
Crisler Class:
Little Brown Jug / Minnesota Rivalry (1903/1892)
Yost Field House / Arena (1923)
Colors: Maize and Blue (1867)
The Mad Magicians (1947)
Desmond Heisman pose (1991)
"1" in official stadium capacity (1955)
100,000+ attendance streak (1975)
"Let's Go Blue" tune + chant (created 1972, Michigan stadium debut 1975)
"The Team, The Team, The Team.." speech (filmed in 1983, origins likely prior)
Drum major backbend / Drum major goalpost mace toss
Bo & Helmet award Decals/Stickers (1969-1982,1985-1994)
Varsity (1911)
Yellow and Blue (1886)
U-M retired jersey numbers (98,47,48,11,87,21)
#1 Jersey tradition (Anthony Carter, Braylon Edwards – 1979)
Oosterbaan Class:
Michigan State Rivalry / Paul Bunyan Trophy
Announcing Slippery Rock Score/Game (1959)
Equipment Management (Henry Hatch / Jon Falk)
Michigan Football Legends Program – Numbers, Patch, Locker (2011=2014 – R.I.P)
Founding membership in Western/Big Ten Conference (1896)
Aerial objects: Marshmallows (R.I.P.) / Toilet paper (R.I.P) / M flags on extendable flagpoles (R.I.P.)
Hawaiian War Chant/Temptation
Whiskey & Brandy / Dogs running with ball on the field (1968) (R.I.P)
Chicago/A.A. Stagg Rivalry
Slippery Rock score/game PA announcement (1959)
Band Takes the Field / Tri-Service Color Guard / National Anthem Presentation
"It's Great to Be..a Michigan Wolverine" chant (circa ? early 1980s)
Cowbell with 'Go Blue'
Bump Class:
Fourth Down / "You Suck"
MMB "Cake" Formation (1985)
Blue Brothers Dance (2008 Yost, 2011 M Stadium?)
Cheerleaders backflipping off the wall (R.I.P.)
Cheerleaders spelling Michigan in end zone
North / South Go Blue chant
Michigan Replay & the 'Across 110th Street' theme (R.I.P.)
Post feedback in the comments or via MVictors on Twitter (use #Traditions)