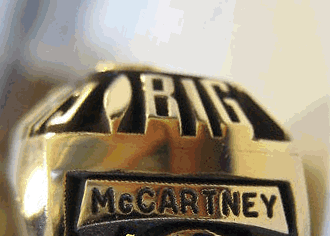 On November 20 last year I wrote this post on the auction of a 1980 Big Ten Championship (and '81 Rose Bowl) ring. This beauty eventually sold for a cool $1,990. The ring bears the name "McCartney" and thus it was speculated that this could be the property of former Michigan assistant coach Bill McCartney. This suggestion was dismissed as the seller pointed out that this was merely a salesman's sample and we all moved on with our happy lives.
Until last night.
Turns out McCartney's grandson TC McCartney is a freshman quarterback for Coach Miles [recruitniks: Yes, TC considered Michigan so take a cold shower]. After returning from the BCS Championship in New Orleans, Coach Mac's better half was looking for some LSU Championship news and found MVictors (naturally). More specifically, she found the story on the ring and it prompted her to give us an excellent saga along with a plea:
We just got back from watching our grandson's team, LSU win the National Championship. I was browsing about looking for anything National Championship or LSU when I came upon this site. Oh my goodness, my husband's 1980 Rose Bowl ring! How in the world did it get there?

When one of our son's was in high school his Dad let him wear the ring to impress somebody (girls probably) anyway the silly boy wore it while swimming in the ocean. You guessed it – he lost it. But that's not where the story ends. Some guy found it on that sandy beach, knew who Bill was and knew Colorado was in town for a bowl game and went to the trouble to find the team hotel and return the ring to Bill. Absolutely amazing. Unfortunately the story doesn't end here either.

Years later the same son, became a head football coach of an area high school. As a motivational exercise to inspire his seniors our son allowed each senior to wear the ring for a day. Sadly, the ring was never returned to Coach Mac. Talk about Maize & Blue tears. That really shook me up as it did the son who lost it.

That ring is part of our life story. It represents a significant and cherished time in our lives. We'd love to have the ring back. Coach Mac is not buying that it's a sample ring – he thinks it's the real deal and someone stole it and sold it. I am glad to know the person who bought it is a Michigan man. Would you mind passing this on to him if you know him? Who knows – he may want to negotiate – he didn't do anything wrong. Thanks for listening to the saga of the missing Rose Bowl ring.

Extremely proud of Coach Carr and the Wolverines
Go Blue
Lyndi Mac  
WOW. Everything checks out on Mrs. Coach Mac and I'm trying to see if I can get in contact with the buyer. OK, so now I feel like Frodo trying to return the ring to the modern day version of the evil kingdom of Mordor (as a teen, I was assured by my father that if I ever moved to Colorado I'd be disowned).