On the Friday before Michigan Stadium was officially dedicated back in 1927, the University Press Club hosted a dinner honoring Fielding Yost.   Attendees included Michigan alumni and the editors from the various papers that covered the Wolverines over the years.
On that weekend Yost received many gifts including an eight cylinder Packard car from alumni and a set of 26 goblets representing each year of his coaching tenure, presented to him by a member of each of Yost's teams.  (Robert Soderstrom's The Big House has a nice recap of the weekend's events.)
The newspaper editors even got into the action as they chipped in and presented Yost with a silver coffee service.   So why am I talking about this?
Well, thanks to reader James who let me know that his family actually owns that coffee set today.  His folks bought it in an estate sale for a measley $100 in the 1970s <shaking head>, and Hulett says the 26 goblets were also sold at this time to another buyer.
Here's a look at the Grand Old Man's coffee set: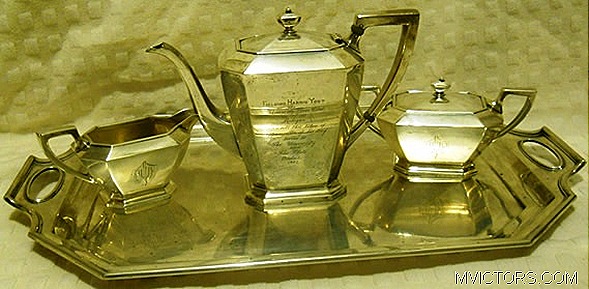 ,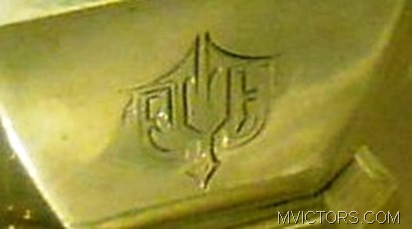 The cream and sugar units were monogrammed with "FYH"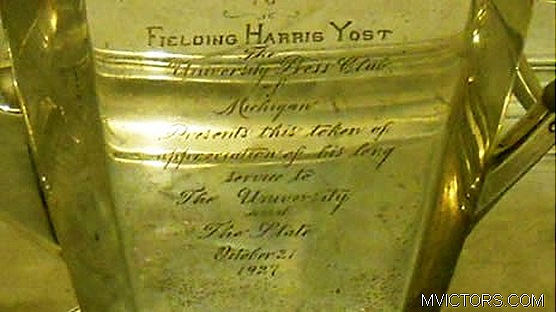 The pot included this nice inscription, offering the gift as a "token of appreciation of his long service to The University and The State".   And keep in mind, this was a gift from the newspaper editors!  Here's a little coverage of the event from the October 22, 1927 St. Petersburg Times, including Yost's reaction to the ceremony.
A big thanks to James for passing along these photos of the coffee set – hang onto that beauty.
Related:
Any Stadium Bonds out there? – Bonds to fund Michigan Stadium
Big House Dedication –  Ticket stubs, Stadium history
Yost's Bust – Head statue of F.H. Yost
Yost's Shiny New Packard – Beautiful car given to Yost by alums
Freshly Minted Big House – Postcard – Great pic of '27 Stadium