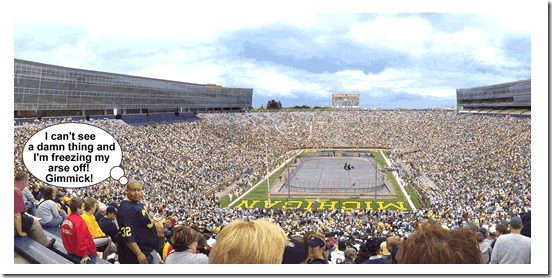 Check out this exchange from The Game 730AM WVFN, Lansing's sports radio station. 
Spartan hockey coach Rick Comley joined the 'Staudt on Sports' show on January 4 and longtime Lansing sportscaster Tim Staudt asked the MSU coach about outdoor hockey:
Tim Staudt:  "Do you think Michigan State will ever play another outdoor game?"
Rick Comley: "Well you know we had agreed to play Michigan next year on December 11th in an outdoor game and there's been no talk since then so  I'm assuming that's not going to happen.  So you know I bet at some point we do, but where it will be, who knows?"

Staudt: "So you're saying to me that you haven't heard one way or another whether the December 11th game in Michigan Stadium is on or off yet."
Comley: "No. They announced that we were playing without asking us, number one.  And then number two, we told them we would play after the fact and we've heard nothing since.  I'm assuming then, that they're not doing it."

Staudt: [the Dean is chuckling] "Well if you don't know, then I'm guessing the game may not be on yet.  If he [Comley] doesn't know, who's supposed to know?"
Thanks to show producer Brock Palmbos, here's the audio if you need it:
Standard Podcast
Play Now
|
Play in Popup
|
Download
.
I contacted Jamie Weir who handles media relations for Spartan Hockey and asked her if she considered this outdoor game scheduled for next season.   Weir's response:   "It's my understanding that there have been discussions about a game and I know that Coach Berenson has talked about it and I know they are trying to get something done, but our schedule is not finalized for next year.  There's been nothing formal announced from either school.  Generally when we do these things there's a joint announcement that comes out from both of the schools and that has not happened yet."
She added, "In terms of where that game is at, I think you are better off asking Michigan, because it's their facility."  Weir mentioned that scheduling events such as this are often managed higher up on the athletic department chain, but as far as she was concerned there was nothing officially determined yet.
I emailed Bruce Madej if the game was considered officially scheduled from U-M's standpoint.  Madej emailed back, "We have not made an 'official' announcement."
So what does this mean?
Not a whole lot beyond adding some spice to the hockey season.  This is merely Coach Comley on local radio in the midst of a fine Spartan hockey season taking a little shot at Michigan for how they are handling the scheduling of this big game next season.  As if, a) MSU wouldn't agree to play the game, and/or b) Comley would disrespect Coach Berenson by not agreeing to do it.
[Ed. Hat tip to reader BiggieMunn for passing this along.]