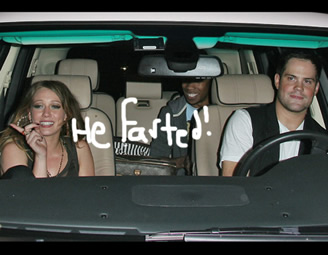 Comrie needs to tell Perez about the schoolyard truism 'he who smelt it'
Former M star and current NHL'er Mike Comrie has been seen around town lately with teeny sensation Hilary Duff. Good for Comrie, right? Well, maybe.
Gossip queen Perez Hilton refers to MC as Duff's "hockey player boy toy", and Perez used his deadly white pen to indicate that our M Man passed some gas inside the car. That's the price of fame, dude. Duff was also featured in a spread in this month's Maxim magazine, on newstands now.
Props to Comrie for letting us know that vests are back in style (good news for Tressel, bad news for Carr). Perez didn't indicate who is chilling in the back seat, but I can confirm that #16 was in Ann Arbor on Saturday.
MC isn't the first (or last) Michigan Man to be seen and inked up inside the Perez Hilton site. David Beckham and Derek Jeter recently appeared together, and of course Tom Brady appears on occasion due to his model exploits.