Jeff Arnold of AnnArbor.com mentioned this in his game notes from Saturday:
The 132 points that Michigan and Illinois combined for set a record for a Big Ten conference game. The previous mark was set in 1902 when Michigan and then-Michigan Agricultural College (now Michigan State) scored 119 points in a 119-0 Wolverines victory.
I read that in the paper Sunday but missed this error that MVictors reader "jmblue" points out:
By the way, we've been told repeatedly that the "highest-scoring Big Ten game" before this was our 119-0 win over Michigan Agricultural College, but that's not accurate since M.A.C. wasn't in the conference at the time. Any idea what the highest-scoring actual conference game was?
Yes, according to the Big Ten weekly release it was this game:
Last Saturday at Michigan Stadium, Illinois and Michigan went to triple overtime and piled up 132 points to shatter the record for combined scoring in a conference game.

…

The previous Big Ten record for combined scoring in a conference games was 115 points when Minnesota defeated Purdue, 59-56, on Oct. 9, 1993.
Other Stuff
While browsing through that release I stubbed my toe on a few other items of note.  Check these out starting on Page 7 at the bottom under "Current Players Amount Or Nearing Single-Season Leaders".  You knew that Denard was tops all time for rushing yards by a quarterback (1,349 so far) but did you know?:
* Currently active Big Ten quarterbacks rank as 4 of the top 5 all time in season completion percentage.  So were over halfway through the season — do we chalk this up the fact that we haven't factored in the coldest weeks of the season?   And look at passing efficiency.  Did you know that the legendary Bob Chappuis is first all-time but Rick-freaking-Six is right on his heels?   "Miss it Ricky."
Finally check this out.  They list the all-time conference coaching records by overall winning percentage while a member of the conference, minimum 10 years.  Given this is Jim Tressel's 10th season old Sweatervest McCheaty Pants makes the grade..and he's right on the heels of The Grand Old Man!   He's just a few percentage points away: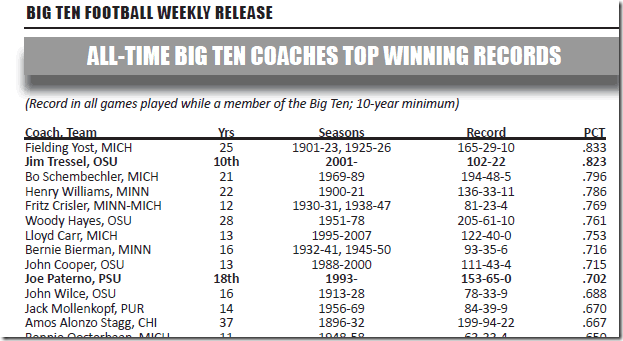 However!  Not so fast my Scarlet-sweatervested friend…
Note that this applies to all games "played while a member of the Big Ten."  Michigan wasn't a member of the conference from 1907-1916 and they counted that in Yost's percentage.  (For the purposes of record keeping Western Conference = Big Ten).
Here's how his numbers stack up when you correct this and only account for his record while coaching in the conference: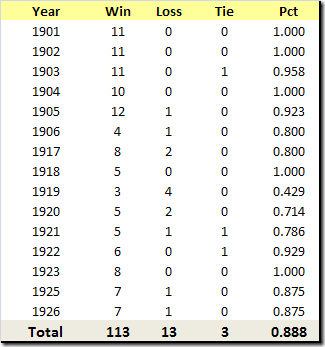 Yep – not .833 but a whopping .888 percentage.   I contacted the Big Ten media relations folks to have them take a look at this and make sure there's some breathing room between Yost and Tressel.
[ed. 11/8 -  I already got a response from the Big Ten.  They're going to talk it over and get back to me.]