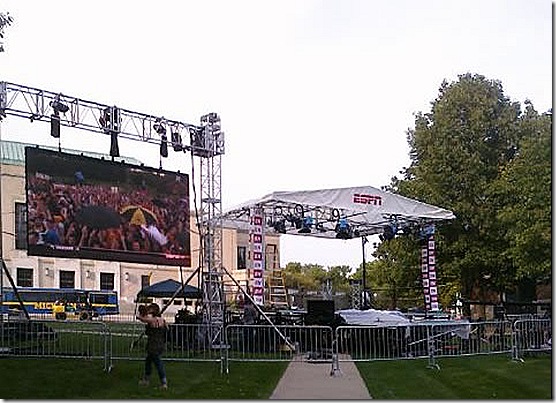 Photo from Sean @ SBNation Detroit
This morning ESPN radio host Colin Cowherd will do his 10-1 EDT radio show from Ann Arbor, and later tape his Sports Nation TV show.
Are you going?  I'd love a few unique shots of the goings on if you are able.
Cowherd and the Michigan blogging community have an interesting relationship thanks a well-publicized scuffle with the MZone, a very popular sports/pop-culture blog that disappeared a few years ago but has recently triumphantly returned.  
What happened?  Cowherd ripped off material on an M Zone post but didn't bother to mention where he got it.  (And Yost and crew are aware that Cowherd is in town and have put the lock down on fresh material.)
It wasn't a trivial incident as Cowherd to this day points to the MZone as why he can't reply to listener emails.   Clip from January 2009:
Cowherd MZone emails
Play Now
|
Play in Popup
|
Download
Over the years I've become a fan of Cowherd's radio show but can't get with the TV show.  (I saw him dressed up and talking like a pirate the other day during a bit.  I hope he's well compensated.  'Dance, monkey, dance!').