I should have known that when Blake strapped on the winged helmet last Tuesday on Workaholics, things would end badly on Saturday: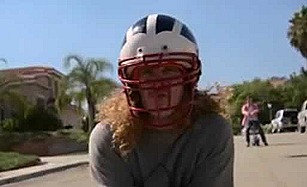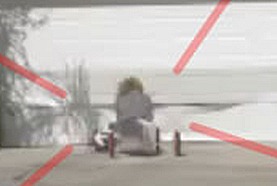 Go ahead and grab your crash helmet and dial the "here we go again?" gauge up a notch.   This isn't a championship caliber team (you already knew that) but clearly all of these conference teams are beatable.
My line lately to people who ask before the game is this—Denard's going to get six to eight opportunities to really hurt the opponent with his arm.  He's got to cash in on two, maybe three.   He didn't Saturday and I'm getting more and more frustrated.   Despite Brian's speculation, I'm sure they travelled to Iowa City and East Lansing with Borges' head completely in tact but I don't get the insistence to put Denard behind center.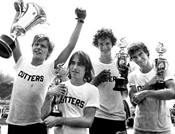 Speaking of Denard, something not there with his wheels.  Michael Spath tweeted that's he's become a "cutter", as opposed to just beating people to the edge.  I've noticed this too and since Michigan State I just haven't seen that extra burst.
Is he hurt?  Is he trying to tailor his running style because of what the coaches are telling him? 
Dunno, but if Denard can only get to third gear this is going to send me like Blake into the garage.
Bullets:
Yes, Michigan got jobbed on a few a calls.  Treezy was interfered with in the first half and if you are going to pick up a flag, it better be uncatchable or a clear cut bad call.  It was neither.   And Hemingway caught the ball in the end zone at the end of the game but I wasn't expecting them to overturn the original call on the replay.  I'd like to know why the ref was pounding on the ground—was it because he thought the ball hit the ground before Hemingway had possession, or did he think Hemingway caught it but landed out of bounds? 
I noticed a couple of the up guys on Michigan's kick return cheating a little bit early in the first half.  It crossed my mind that Iowa might try an onside kick but..I'm not exactly sure what that was with two minutes to go in the half.   I don't think it was an attempt by Iowa to get the ball back.  It kills me how these coaches continue to get cute in the final minutes of halves with the kick-off.  Michigan got the ball at midfield! 
Highlights for me—certainly the outstanding fourth down stop in the first half, and the two stops to start the second half.  Countess did a nice job (why didn't we keep him on McNutt?) and I like the way Fitz is running.
Lowlights—man, the linebackers struggled.  I thought for sure Demens pulled a hammy on the first Iowa drive but it turns out he was just out of position and just not that fast.  My man Desmond Morgan struggled a bit as well as Spielman pointed out a couple times.  And the WRs—you've gotta catch the ball.
Misc:
Once again Michigan broke out the 2010 road jerseys for many of the players.   I'm sure it's the same issue—there's something that doesn't fit right with the 2011 gear and that's embarrassing.  Memo to adidas—fix it!
Does Spielman have the flu?  My man was white as a ghost in the shots of him during and after the game, and really had no energy in the broadcast.