The first round of the 'Death March Madness' tournament (full bracket here – background here). Here's a printable version.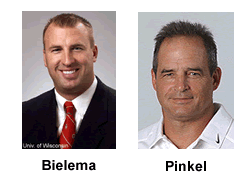 Bret Bielema (Wisconsin) v Gary Pinkel (Missouri)
As 5 and 6 seeded players, each is considered a longshot for the position.
Bielema has come into conversation lately as a candidate, but it may not be the right time for the young Bielema to leave the high profile job in Madision that he just took over. He would have instant recruiting ties to the Midwest, and may be buddy-buddy with current Michigan president Mary Sue Coleman due to his pedigree on Iowa's coaching staff. More on Bielema here from the Wisconsin official site. I'm sure a few Badger fans would take offense at the suggestion that their coach could be cherry-picked by the Wolverines, but it could happen. Like it or not, the Michigan gig in on a different level and double-B would be foolish not to keep his ears on for Martin's call. We'll see.
Gary Pinkel certainly is a hot name right given his hand in resurrecting the Tigers to one of the teams in the BCS championship hunt so late in the season. His team faces Kansas this weekend which will tell us a lot. He'd have instant Midwest recruiting ties as his pedigree is MAC-based (Kent State/Toledo/Bowling Green). Pinkel's got plenty of gear already with a block M on it, and Lloyd Carr may put in a good word as Missouri's where Lloyd started his own playing career. More on GP from the Missouri official site. He and his Tigers are hot, hot, hot! If he can make it work at Missouri, can you imagine what he could do with the resources that the job in Ann Arbor would bring. The question is, will Martin call?
So what do you think? The winner will take on #1 seed Brian Kelly of Cincinnati. Vote now, and if you've got strong feelings either way, put it down in the comments:
UPDATE: A lot of action in this one, but the winner is with 56% of the Vote is Gary Pinkel. Here's the current match-up:
{democracy}