The second round of the 'Death March Madness' tournament (current bracket HERE – background here). Here's a printable version.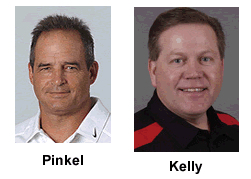 Brian Kelly (Cincinnati) vs. Gary Pinkel (Missouri)
How they got here: Coach Kelly received a bye in the first round as the top seed in the region, Gary Pinkel won a tight battle with Wisconsin coach Bret Bielema in the first round.

Brian Kelly [bio, Cincinnati official site] is a name that's come up quite a bit with respect to this job. He was a strong candidate for the Spartan job but something happened somewhere along the way and MSU ended up with Mark Dantonio. Shortly thereafter Kelly then replaced Dantonio as the Bearcats coach. Word on the street is that there's some serious hard feelings between Kelly and MSU following the hiring process, so much that Kelly wouldn't release one of his players to rejoin Dantonio. Jim Carty of the AA News wrote on this during the summer.
Kelly's pedigree is of course largely based in Michigan, first he had ridiculous success at Grand Valley State leading his teams to multiple national titles, and then in 2005 to Mount Pleasant where he led the Central Michigan to a league championship. He took over after current M offensive coordinator Mike DeBord quit.
There's risk is giving Kelly the job. Let's put aside the comments and his handling of the incident where CMU players allegedly stomped a man to death, Kelly hasn't really had a chance to show what he can do at a top tier school. God bless him for the success at GVSU and CMU but it's not the Big Ten. I think M fans would be more comfortable with coach with a little more seasoning, perhaps a few years into the Cincinnati job would make BK a better option. Either way, he's at or on the top of most punits' lists. For me, it's just hard to see Michigan hiring a man who wasn't good enough for Michigan State.
Gary Pinkel certainly is a hot name right given his hand in resurrecting the Tigers to one of the teams in the BCS championship hunt so late in the season. With Missouri taking down Kansas this weekend, Pinkel and the Tigers are poised to battle for the BCS championship in New Orleans in January. Hard to believe.
As far as the Michigan job, he'd have instant Midwest recruiting ties as his pedigree is MAC-based (Kent State/Toledo/Bowling Green). Pinkel's got plenty of gear already with a block M on it, and Lloyd Carr may put in a good word as Missouri's where Lloyd started his own playing career. More on Pinkel from the Missouri official site. He and his Tigers are hot, hot, hot! If he can make it work at Missouri, can you imagine what he could do with the resources that the job in Ann Arbor would bring. The question is, will Martin call?
So what do you think?:
Kelly wins with 64% of the votes. Here's the current match-up

{democracy}