[ed 8.17 – Got a call from Bruce Madej at U-M Media Relations on this.  He advises that this logo is not "new" or a change and in fact the Block M with the blue outline is used in certain media/TV situations and still at midfield today.  Madej did confirm that there is an effort to have a more consistent look to the logo.  For the record.]
I have a friend that does some work with the athletic department and he told me that this year the he was provided a subtle change to the Block M design on his products.  The previous version of the logo included an outline of blue around the M, and you've seen the older editions that have MICHIGAN across the middle.  A rundown of the trademarked M images are found here. 
I spoke to Erin at IMG who confirmed that the athletic department is going with the all Maize look and that the move "was made when Dave Brandon, Michigan's new Athletic Director, took office in March."   Voila: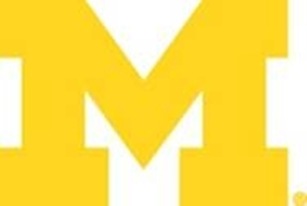 I guess it shouldn't be a shock that one of Brandon's first moves was to usher in a consistent look and feel to the iconic M logo.  I like it.  I like it a lot.  What is interesting to me is that there wasn't any fanfare around the announcement, not that removing a blue outline is a big deal.  Maybe they released a memo and I just missed it.   Of course maybe Brandon was hip to the chaos that erupted in East Lansing over the proposed Sparty change and decided to downplay it.   Most likely, however, is that they figured it wasn't a big deal except for people who do things like stress over how helmets are painted and the style of practice uniforms.
As noted in the note at the top of this post, I also spoke with a couple folks within the athletic department and their explanation is much simpler: there has been a gradual move to make the block M more consistent over the past several years, and this wasn't a move initiated by Dave Brandon.  Further, the athletic department stressed that while IMG has a close affiliation with Michigan, they should not speak on matters such as these.  So there you go.
I've had emailers suggest I get into the history of the block M on these pages but I'm just not sure how well the whole thing has been documented and if there even was a strict logo policy throughout the decades.  [I know they used a similar all-maize M at the turn of the last century, at least on certain letterhead, haha].   The Bentley Library did do a wonderful job of detailing the history of the U-M seal, which I recapped in this March 2009 post so perhaps this history is out there somewhere.
[Update:  Craig at Hoover Street Rag took a run at the history of the logos, including some great ones from back in the day.  Hey Craig, don't forget about the 1904-ish logo in the MVictors banner.]
Related:
#1 Jersey "Semi-Retired" per Rodriguez  :(
Follow MVictors on Twitter