1. Picks. Bigger? Left. Better? Right.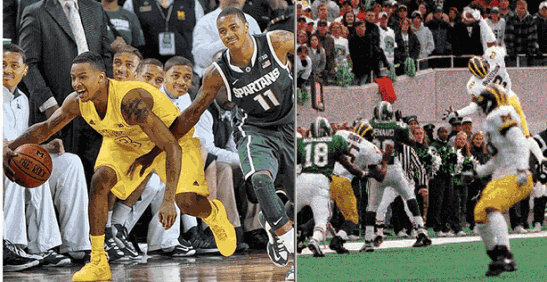 (Burke shot by Melanie Maxwell HT: mgoblog)
Woodson's snag really got the Heisman train rolling, and the Ohio State punt return probably sealed it. Wonder what affect Burke's pick has done for his POY chances.
2. Gardner's return.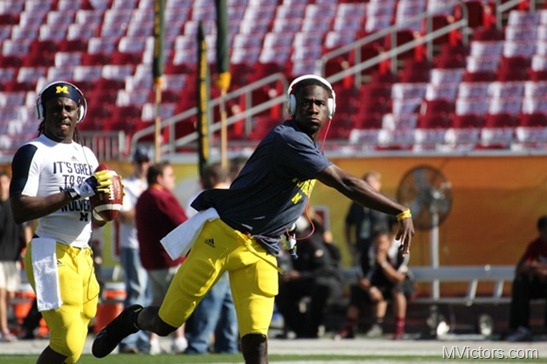 photo: Kelley Kuehne @ 2013 Outback Bowl
HUGE.
The University of Michigan Athletic Department announced today (Tuesday, March 5) that quarterback Devin Gardner has been granted a medical hardship for the 2010 season and will have two seasons of eligibility remaining.
Quietly this was the biggest question mark out there during the offseason—there was just nothing really to write about. I think there was an general feeling in the media that the NCAA would indeed approve this, but it was still a question.
3. Jerry Montgomery. I got to know the Montgomerys a little bit and they will be missed in town. I don't know the circumstances but I always found it a little unique that Jerry always seemed to have either Mattison or Hoke (or both during pregame) right over his shoulder: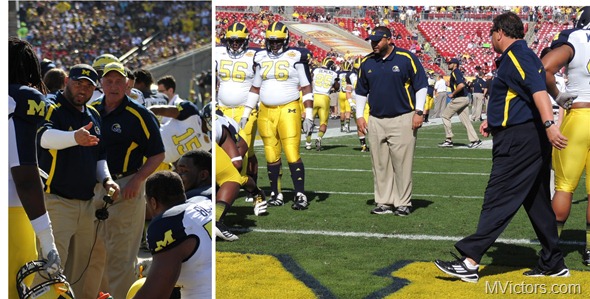 I'm guessing Oklahoma offered a clearer leadership role. I know he felt strongly about his Iowa roots (as he should), and I'm sure that tie was a big emphasis for Stoops when he closed the deal.
Follow MVictors on Twitter