He's right about this stance. I heard CBS color man and former Detroit Lion/Boilermaker Gary Danielson raising his concern about the college football overtime rules. He's not opposed to the format; his issue is with the suits that steer policy on NCAA statistics.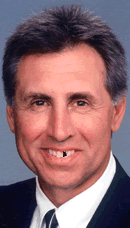 His beef is that the NCAA recognizes overtime statistics on level with those that occur during the first 4 quarters. As we know, the start-from-the-25-until someone-wins approach to handling regulation ties was instituted in 1996. What hasn't been widely discussed is that dispensation of the stats rolled up during the indefinite OT period. Big Gary maintains that the numbers rolled up in overtime shouldn't count in the books. Teams should get a win or loss in overtime, and the record books should leave it at that.
I don't know why he started this stance; I don't know if it is personal (he doesn't appear to hold any Purdue records of note) or whether it is just a bonafide take. Either way he's right.
Statistics in college football don't hold the same distinction as those in sports such as baseball. Records related to the quarterback position, for instance, have been written and rewritten over the past two decades without a lot of fanfare. There can never be pure apples to apples historical comparisons in stats in most major sports leagues or associations primarily due to changes to the length of playing seasons, technology or of course steroids. That said, statistics and records matter. Heck, Fielding Yost knew this. He headed the committee to standardize statistics in college football. Look no further than the hoopla around Mike Hart's quest to become Michigan's all time leading rusher.
What struck a nerve with me was the combination of Danielson's comments during the Kentucky/LSU game and the news surrounding Boise State's 69-67 4 OT win over Nevada which was touted as a record-breaking event. From a recent summary of the Boise State tilt:
In a game with 136 total points and nearly 1,300 yards of total offense, it was the defense that made the biggest play. Sooner or later the defense had to make a stop, and Boise State's Tim Brady did just that on the final play in the fourth overtime period, stuffing a 2-point conversion attempt in a thrilling 69-67 victory over Nevada on Sunday night. The game set a record for most points in an NCAA Division I-A game since 1937, when official record keeping began.
The four overtime extra periods for both teams racked up points, yards, scores and broke records. It shouldn't count.
I don't know who's responsible at the NCAA for making the calls on details such as statistics (or folks at the Big Ten for defining conference bowl tie-breakers) but my guess is that the question of overtime statistics wasn't heavily debated. It should have been. Like the Boise State/Nevada 4 OT game a couple weeks ago, we'll continue to see game, individual and team records broken directly resulting from the inflation of statistics from the recent overtime format. It's not fair and it should stop.
Postscript: I love the Wikipedia, and often I reference it on this site. Because it is completely written by tools such as bloggers (gulp) and readers of blogs (that's you), you get some BS info. Anyway, here's an excerpt from the current entry on Gary Danielson:
Gary Danielson was an analyst for the SEC Championship game on December 2, 2006. Danielson's remarks in the fourth quarter of Florida's 38-28 victory over Arkansas in the SEC title game sparked some controversy. He was accused of lobbying for Florida to play in the national title game against Ohio State and against Michigan getting a shot at a rematch against Ohio State. Danielson's controversial comments turned out to be accurate, as Florida went on to win the BCS National Championship by beating Ohio State 41-14.
No, Danielson's comments didn't turn out to be "accurate". Big Gary offered an opinion and more than that, annoying lobbying that went way beyond the scope of his role as a color guy for CBS. While Florida won the BCS championship impressively, it didn't make his comments "accurate". It may have validated his opinion that Florida was a strong team, perhaps deserving of a place in the BCS championship, but nothing that happened in the BCS game could make an opinion "accurate". Some hillbilly is probably birddogging Danielson's Wikipedia entry.