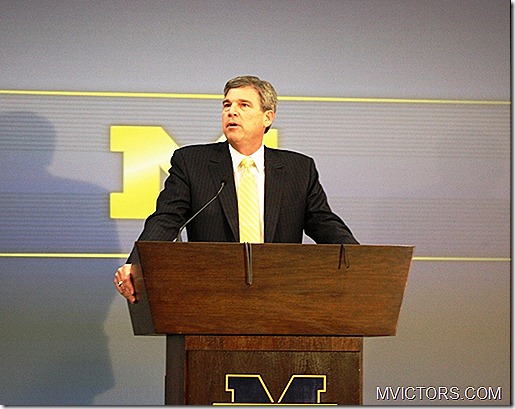 Super Dave Brandon joined Ira and Sam this morning on WTKA.  Here's the audio, starts about 1 minute in:
He was fast as lightning
Play Now
|
Play in Popup
|
Download
At the end he talked about apologies.  Brandon:
"We apologized yesterday because we made mistakes.  I'm kinda waiting for somebody from the media to apologize for mistakes they made.  And I'm not sure that's ever going to happen, but that would be a nice thing, wouldn't it?"
Judging from the stories out today from the Free Press you can bet Brandon's not holding his breath for a phone call.   Later this morning on WTKA John U. Bacon made the point that folks will read into the NCAA findings what they will to benefit their point of view, a ruling Rorschach if you will.
What do you think?  Here's Sharp:
Michigan believed it scored a victory when the NCAA accepted its impassioned argument against the fifth and most serious allegation — that Rodriguez willingly fostered an atmosphere of non-compliance, accepting the different conviction that the coach wrongly failed to monitor his program.

It's like the thief that's caught stealing your watch, but is relieved he didn't get nailed for taking your wallet as well.
And this headline from Snyder/Rosey:

We really wanted to know two things out of this announcement—whether the NCAA would accept Michigan's self-imposed sanctions and whether they'd drop major violation #5 (against Rodriguez).   Everything else was settled.   There's really no way to look at this other than a win for U-M and Rodriguez.   The NCAA backed-off…they didn't "hit" anyone yesterday.