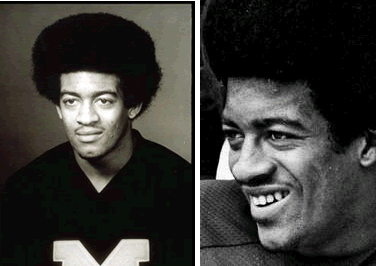 Bentley
Congratulations to the late Dave Brown who joined 19 other coaches and players into the College Football Hall of Fame today. The two time ('73-'74) All-American defensive back was inducted alongside JoPa and Doug Flutie.
But you wouldn't know about it because there is minimal local coverage [Freep] including no mention on mgoblue.com? What's the deal? It's not like the athletic department isn't on top of things: there's a mention of Dan Deirdorf winning an award for broadcasting.
Brown is the 34th individual with Michigan ties to be inducted, here's a list I compiled for you: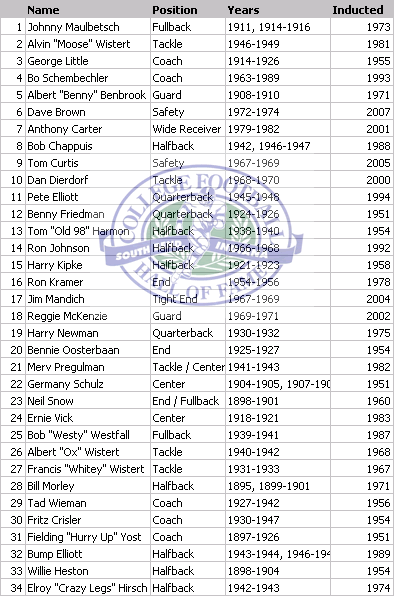 I don't have any memories of Brown since I was a wee lad when he took the field, but it's clear he had some skills in the defensive backfield (9 career interceptions) and was a fine punt returner (11.1 career average). He co-captained the great 1974 squad that finished 10-1 and 3rd in the final AP poll. The lone loss that season was the 12-10 defeat at the hand of the Buckeyes. Here's his full bio on his new college football hall of fame page:
Dave Brown was the leader of one of the most successful and yet frustrating periods in Michigan football history. The Wolverines posted a 30-2-1 record, tied for three Big Ten conference titles and never went to a bowl game. The defensive units on which Brown played were consistent national leaders. He was twice on squads that gave up the fewest points-per-game in the country. The other team placed second. In 33 games played, his teams surrendered more than ten points in only five games and registered 11 shutouts. On the freshman team, Brown was used on both offense as a receiver and in the defensive secondary. When he joined the varsity, he was moved to the defensive secondary on a full-time basis. His offensive abilities were then used as a punt return specialist. As a sophomore, he averaged over 15 yards a return with one touchdown. Brown would have one score in each of this three seasons. He also added one TD on an interception return. He was recognized as an all-Big Ten player. In his junior year he became a consensus All-America choice. He improved his status to that of a unanimous choice as a senior. When he completed his career he held the school record for passes broken up. Dave was chosen in the first round of the NFL draft and went on to a 16-year pro career. He then embarked on a coaching career. While an assistant coach at Texas Tech he died at the age of 52.
Good info but was that written by an android? "Dave Brown was good. He returned punts. He had interceptions." Sheesh. And speaking of the HOF site, it's tired. And sadly, MVictors has courted finer advertisers. It's front page includes this sharp add for its own grilling sauces: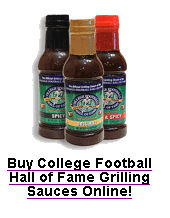 Joining Brown, Paterno and Flutie is Notre Dame's Chris Zorich. Here he is, like Brown, photographed in his varsity sweater but for some reason he's wearing it underneath his uniform: