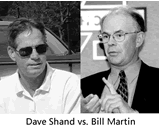 A quick update on Dave Shand's suit against Bill Martin Per Shand's attorney Nick Roumel, Martin's motion to dismiss the case that was originally scheduled for late November then moved to January 23rd then moved to today (February 26th) was moved again, this time to March but that too may need to be shuffled.
What is going on here? Must I call upon the MVictors legal correspondent once again for an explanation of this madness?
For all the posts related to Shand, click here.