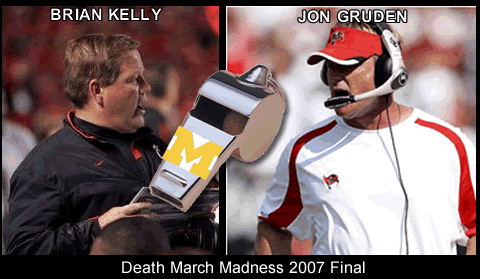 Two tortuous weeks of Death March Madness have concluded and nearly 5,000 votes cast. 24 men started, two men remain, one man leaves with the title of People's Choice for Michigan head coaching job. Through the tournament we've learned a few things. The far and away favorite Les Miles became taboo when the fiasco played out on Saturday. Before that, #1 seed Kirk Ferentz was wiped out as soon as he was rumored to be offered the job.
Each men took a different path to get to this point with Kelly defeating Gary Pinkel and Bob Stoops leading to a easy win over California coach Jeff Tedford in the semi-final. Gruden dropped Ron English, Miles and finally squeaked by Rutgers coach Greg Schiano before reaching the finals. You can review the Full Bracket and Results here.
Let's look a little deeper at each man in the finals:
Jon Gruden is just one of those guys that's going to come up in the conversation [bio from buccaneers.com]. He of course gets instant cred with the Super Bowl ring. Unlike many NFL coaches, his Pete Carroll-esque charm and enthusiasm might make him a decent fit for the college game. He grew up in Ohio and earned three letters at Dayton where he played quarterback, so living in Ann Arbor wouldn't present a major culture shock. He then went on to Tennessee and Pacific before heading to the NFL. It didn't take him long to get a head coaching gig and he's got 9 years under his belt, 5 with Tampa Bay.
From the reader comments, an endorsement of Gruden:
i went to dayton with jon gruden. anyone who knew jon at that time knew that the michigan job was always his dream job. this fact is even stated in the 1983-1984 dayton football media guide under jon's bio. granted that was 20+ years ago, i still think this job is extremely attractive to him despite what he says. being able to achieve a lifetime goal in life has to count for something. – joe maimone
For Gruden, I think it really comes down to whether Bill Martin will bother to call or if Chucky will listen. The Michigan job came up in a recent press conference but Gruden just laughed (but he didn't deny anything, haha). Vegas thinks it's a possibility as he came off at 10 to 1 to get the gig. What do you think?
Brian Kelly [bio, Cincinnati official site] is a name that's come up quite a bit with respect to this job. The only problem? Insiders don't really think Martin is considering him for the job.
He was a strong candidate for the Spartan job but something happened somewhere along the way and MSU ended up with Mark Dantonio. Shortly thereafter Kelly then replaced Dantonio as the Bearcats coach. Word on the street is that there's some serious hard feelings between Kelly and MSU following the hiring process, so much that Kelly wouldn't release one of his players to rejoin Dantonio. Jim Carty of the AA News wrote on this during the summer.
Kelly's pedigree is of course largely based in Michigan, first he had ridiculous success at Grand Valley State leading his teams to multiple national titles, and then in 2005 to Mount Pleasant where he led the Central Michigan to a league championship. He took over after current M offensive coordinator Mike DeBord quit.
You've been vocal about Kelly. It seems to be a zero-sum game with this dude:

The spread offense @ Michigan would be a welcome change. Brian Kelly for Michigan! – mich hammer

Kelly would be a bad choice. As noted, he had a mess on his hands at CMU (with legal probems with athletes). – ramosa

Somebody please help me understand why Brian Kelly would make such a great head coach at Michigan. Yeah, I'm sure he'd win a bunch of games, but that whole situation with him leaving CMU for MSU, no wait, Iowa State, no wait Cinci-f-ing-nnati, and the handling of the Detroit kid wanting to transfer to State just doesn't smack of class. – Lew

Brian Kelly – has no chance – and really he shouldn't considering what happened at CMU. I wish people would stop even bringing his name up, he just doesn't fit for Michigan. – dward
There's risk is giving Kelly the job. Let's put aside the comments and his handling of the incident where CMU players allegedly stomped a man to death, Kelly hasn't really had a chance to show what he can do at a top tier school. God bless him for the success at GVSU and CMU but it's not the Big Ten. I think M fans would be more comfortable with coach with a little more seasoning, perhaps a few years into the Cincinnati job would make BK a better option. Either way, he's at or on the top of most punits' lists. For me, it's just hard to see Michigan hiring a man who wasn't good enough for Michigan State.