In November 2007 I launched Death March Madness, a bracket-style attempt to waste energy while Bill Martin worked on finding Rich Rod.   I'll steal the description from DMM I:
So continues the non-stop parade of radio talk show hosts & callers, pundits, bloggers, journalists and anyone else with a pulse that will speculate on a replacement. This death march will drag Michigan fans through the holidays and most likely beyond the BCS Championship in early January. The beauty in all this is that no one really will have a clue what's actually going on inside Dave Brandon's head until we get close, and maybe not even then. Have fun with those out of town relatives peppering you with takes on this. Prepare yourself man.
To combat the stupidity of the next few months I've decided to fight fire with fire: a tired old radio show stunt to determine the next coach. It'll be fought out in the blogosphere amongst my fellow nerds, which is where it belongs. The results will be as meaningless as the opinions of the talk show callers (except for maybe 'Linda from Grand Blanc). Should you chose to participate in Death March Madness you may actually feel yourself getting dumber as a result.
Jon Gruden won the event in 2007, edging out Brian Kelly by taking 56% of the vote.  (Rich Rod was a #2 seed by feel to Bob Stoops in the second round.)  Here's the original bracket.
A big thanks to reader Christian Sack, who drew up the seedings and prepared a quick summary of each candidate, here's a look at the 2011 bracket: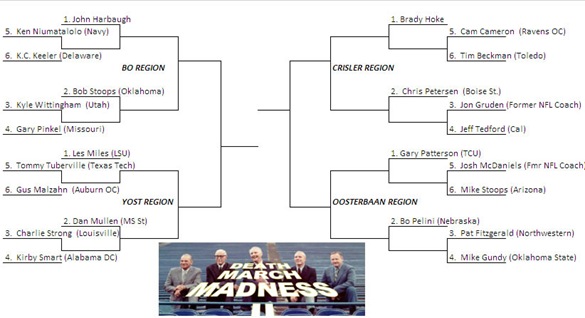 49'er Jim Harbaugh is not represented, nor is Urban Meyer who shut it down.  You also won't find Tony Dungy or Tom Coughlin but there are a few from the NFL coaching ranks represented including ex-champ Gruden.
Update:  It's down to the finals:
Loading ...
Thanks again to Christian Sack, (icefins26 on mgoblog, or guy who rocks the Zack Morris/AC Slater avatar) who drew up the seedings and prepared a quick summary of each candidate.