Coaching search?  That means the return of Death March Madness, which won't help matters (it might actually hurt) but it'll keep you busy while you watch your Twitter feed like a freak.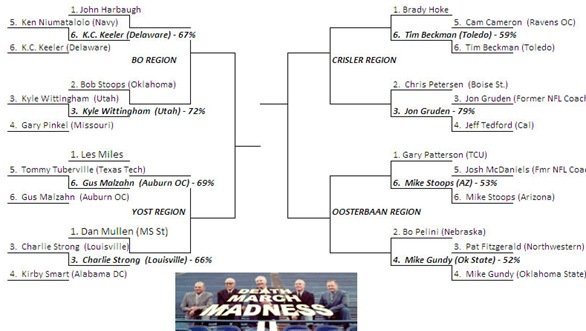 The first round is over, here's a look at the 2011 bracket and the results.
Yost Region Round 2:
1.  Les Miles  (LSU) — The most obvious and talked about candidate in this search aside from Jim Harbaugh.  He has Michigan ties, big conference experience, a National Championship and can recruit very well.  He does have some possible enemies in Ann Arbor however, there are many close to the program who feel he would flourish.  Miles would be able to step in immediately and his offense with Crowton could be able to utilize Denard.  He runs a mix of some pro sets and spread looks.  Miles is, however, going on 60 years-old and it may be tough to pry him away from his success at LSU.  He was rumored to have been extremely interested in 2007 but reportedly never got an offer from Bill Martin.  Much more analysis on 'The Hat' here.
vs.
6.  Gus Malzahn  (Auburn OC) — Offensive mastermind but does not have any head coaching experience.  He would be a gamble but could be a very good head coach down the road.  Won first round in a romp.
Yost Region Round 2:
1. Les Miles (LSU) (64%, 115 Votes)
6. Gus Malzahn (Auburn OC) (37%, 66 Votes)
Total Voters: 180
Loading ...
Yost Region Round 2:
2.  Dan Mullen  (Mississippi St.) — Shredded Michigan in the Gator Bowl — young, runs the spread, disciple of Urban Meyer and many were shocked when he wasn't selected as the next coach in Gainesville to replace Meyer.  He is recruiting very well in Starksville (outrecruiting Ole Miss) and has had some early success at MSU.  He lost Manny Diaz to Texas therefore Diaz would be out should Mullen get an offer and be the next head coach.  Mullen also recently got a new contract extension however, he is still the 6th highest paid coach in the SEC.
vs.
3.  Charlie Strong  (Louisville) — Coming off his first year at Louisville, he went 6-6 and has already really improved Louisville's recruiting class tremendously.  He is a bright defensive mind with a great background in the SEC (South Carolina and Florida).
Yost Region Round 2:
2. Dan Mullen (Mississippi St.) (75%, 138 Votes)
3. Charlie Strong (Louisville) (25%, 45 Votes)
Total Voters: 183
Loading ...
More on Death March Madness II here.
Thanks again to Christian Sack, (icefins26 on mgoblog, or guy who rocks the Zack Morris/AC Slater avatar) who drew up the seedings and prepared a quick summary of each candidate.