Check out this item on eBay right now. It's a promotional packet for season ducats nearly 6 decades ago, implying ticketholders would get a piece of the coveted WOW experience: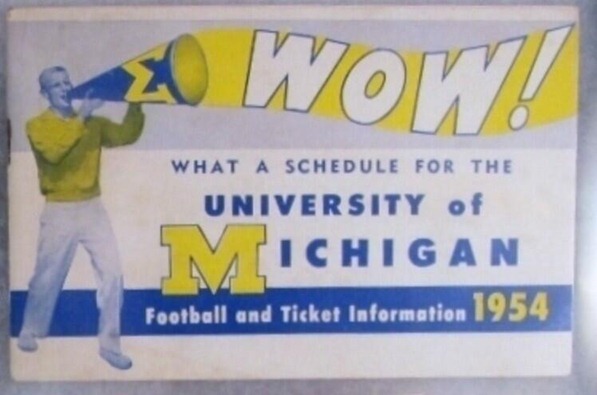 The 1954 season (6-3 overall, 5-2 conference, #15 ranked) didn't quite deliver the full punch of a WOW but sitting in the Big House watching #87 Ron Kramer line up against Army, #4 Iowa, #8 Minnesota, and Michigan State must have been pretty cool.
To me the real WOW experience happened after the season at the 1954 team Bust…when several legends including Benny Friedman, Whitey Wistert and Willie Heston showed up.
You can pick up the 1954 promo piece (along with a few ticket stubs from that season) right here.
Follow MVictors on Twitter