I was up in East Lansing for the Wisconsin game but tuned into the radio broadcast and this morning I watched the replay.  (I broke down and ordered the expanded sports package on Comcast to get ESPNU).   It's remarkable stuff to watch to be sure and like you, I'm still very worried about what's going to happen in the next few weeks with this defense. 
Miscellanea:
* I expected it to be close, definitely closer than the spread, but not quite like that.  I read this Saturday morning and remember thinking it was silly for Sharp to be so specific in his prediction, but, pretty much:
Drew Sharp

MICHIGAN 41, INDIANA 38

This is a game that goes down to the last possession. The Hoosiers score a touchdown with less than a minute remaining, but that gives Denard Robinson enough time for another miraculous drive.
* Love the MS Paint giant shoe sign:
* After the final pass of the game was broken up, cameras panned over to their obligatory shot of the winning coach.  Greg Robinson grabbed Rich Rod to tell him something and it was kind of weird: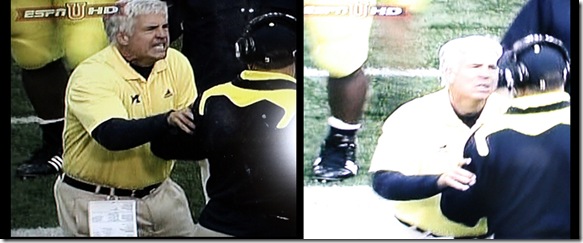 * The other interesting sideline moment came just minutes earlier, after Taylor Lewan was flagged for unsportsmanlike conduct after Denard scored the game winner.  While ESPNU provided some good footage of the refs getting into it with Lewan (and Rodriguez blowing his stack), they really didn't show what happened on the play.  Did anyone see what happened?
* Speaking of Lewan's penalty, props to Seth Broekhuizen for killing that final kick-off and thanks to the coaching staff for not try a squib from that position.   And it looks like we finally got to see a little taste of the Will Hagerup some of us have seen in warm-ups and practice.  He did a good job today, bouncing back from the UMass UMess.
* Thanks to all the Spartan fans who informed me throughout the day that a) Denard's going to get hurt, b) our defense sucks.  One guy who decided to wear shorts in the freezing weather tried to explain to me how we can't win when 90% of the offense goes through one guy.  Good take, but maybe focus some of that keen analysis on your wardrobe selection.  Like this guy: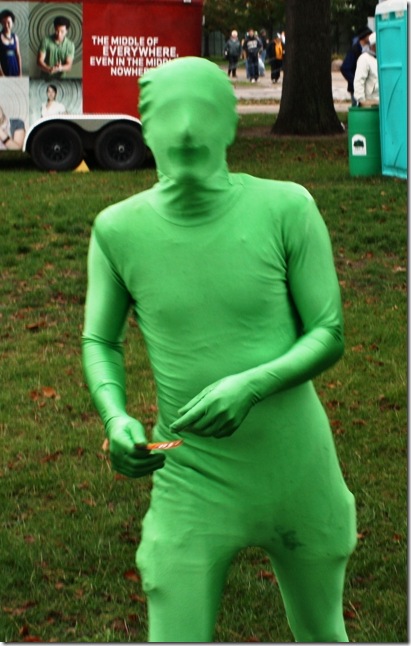 It's a miracle he found his ticket in there!