I recently received this note from reader (and Buckeye) Larry:
I am a huge Buckeye fan.  But I love the history of college football.  I love the history of teams uniforms and helmets too.  I know that Notre Dame was one of the last teams to use leather helmets.  The Irish wore "plastic" for a little bit in the early or mid 40's but went back to leather until the late 50's.

Ohio State last wore leather helmets 1946 with a guy or so a little longer.

I note that Michigan had several players wear leather in the 50's.  But I saw one player, Denny Fitzgerald #18, wear a leather helmet and no facemask in 1960.  That may be one of the latest I have seen a player wear leather and then to have no facemask.  Maybe there was somebody else but I do not know who.  I know Bobby Layne wore no facemask for the Steelers in the early 60's.

I enjoy your site for the historical things. I wonder if you could find out why Fitzgerald wore leather that late and no facemask.
Larry attached a few photos of Fitzgerald donning the winged leather helmet with no facemask.  I love this one: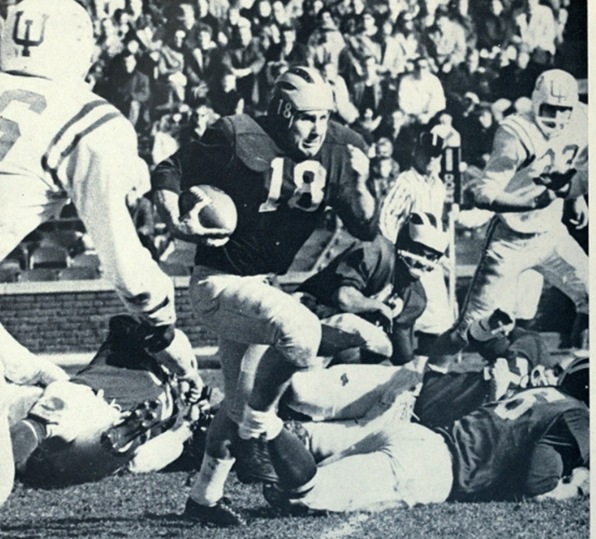 This is a man's man and this is a tough man's game.
Fitzgerald's athletic resume' is impressive, from being a wrestling champion (including a gold at the 1963 Pan Am games) to MVP of Bump Elliott's 1960 squad.   He went onto a distinguished football coaching career that spanned college football (including as an assistant in Ann Arbor), the Arena League and the NFL.  Sadly he retired prior to the 2000 season due to a lymphoma diagnosis and passed away in 2001.
I'm still digging around a bit to understand why he chose to wear the leather helmet and whether he was truly the last college player to don the cowhide.   After consulting my pal and uniform historian Steve Sapardanis, a few ideas:
1. As wasn't uncommon back then, Fitzgerald did a stint in the military before heading to Michigan.  He may have used a leather helmet as a high school player in the early 1950s, and perhaps again in the Marines, and just stuck with it.
2. It could be because of some concern he had over the plastic helmets.  According to Steve's bud Curtis over at Helmet Hut, in 1948 plastic helmets were banned in pro football for one year as it was thought they were causing head injuries.  Many players were still skeptical in the years that followed.
3. Of course maybe it's just that Fitzgerald was a badass.
Jim Conley, captain of the great '64 squad, wrote me and shared a few wonderful memories of Fitzgerald and in doing so, added some credence to option #3 listed above:
Denny was a freshman assistant coach, as well a wrestling asst. coach. I first met him in the fall of 1961.  He was famous for being the last player to wear a leather helmet without a face mask.  He also held the record for the longest kick off return in U-M history. I believe he is now in second place.  [Ed. Correct, he's still tied for 2nd with his 99 yd return vs. Michigan State in 1960].

Denny was a mean rotten bastard when I was a freshman.  I mean that in a good way.  He had an angry approach to football that suited me quite well.  When Don Dufek, my freshman coach, got promoted to varsity defensive backfield coach, Denny became the head freshman coach.  By that time I was a senior and I had a great relationship with him. 

As you may know, Denny was very rough around the edges and very dedicated athlete.  I totally enjoyed hanging out with him.  My fondest memory of Denny was at the Rose Bowl.  He was given the assignment "watchdog" over our social life and we spent most of the time trying to trick him so we could go drink beer and chase skirts.  It drove him crazy.  As he continued in his coaching career he became more tolerable and much more in tune with his Irish heritage when it came to beer.  After a stint at Akron, he followed Jack Lambert to the Steelers, where he became both coach and parole officer. 

Denny died too soon and those of us who new the real Denny were blessed to have known him.
Thanks to Larry for sending the note, and of course to Captain Conley for offering those memories of Fitzgerald.