When the trainers were attending to Denard in the first half I wasn't concerned.   Probably for the first time in the many, many times he's gone down in the middle of a game I wasn't worried.   It didn't look like there was any serious impact to his arm and we've seen him so many times miss a series or two before returning seemingly full strength.   Turns out both my skull and Denard's right arm went numb about the same time and that was that.
As Denard sat there watching the game it looked like Bob Lopez and a couple other guys on the staff actually got him to laugh—but he must have been dying inside.   The team has repeated over and over that every game is a championship game but that was as close U-M has actually seen this year.  The captain and 101% of the offense had to sit and watch his boys get crushed.
You watched the second half perhaps with some hope that Spring Game Bellomy would emerge but save for a few late first downs it wasn't really even close.  I swear I caught Jeremy Gallon staring off into space after the RS freshman was calling a pass play early in the second half and remember thinking, "Gallon knows this ain't happening…"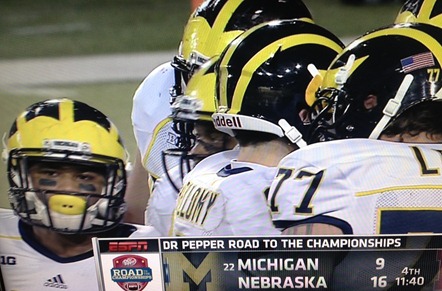 That play was the horribly underthrown toss (yes, headed for Gallon!) which was easily picked off by Nebraska.   Bellomy tossed up a few horrible balls (and didn't get any help from the receivers) but they aren't the worst I've seen in the past few years.   If Bellomy is asked to go against the Gophers let's hope he pulls a 2008 Nick Sheridan and transforms into Tom Brady and brings back the god damn Jug.
Misc:
* Gardner.  On guy calling into WTKA Sunday morning sounded like he waited up all night to blow off steam.  That steam was directed to the head of Borges, who he challenged for not pulling Bellomy after the 0 for 10 start.  I'm really not sure why they didn't insert Gardner early in the third quarter after Bellomy clearly wasn't working.  Sam and Tom Beaver suggested on 1050 that Devin is still battling an injury, but I'm not sure that's preventing him from taking snaps and I understand Hoke noted that Gardner will be getting more time behind center this week.   And speaking of the injury—if it's the same boo boo from the Notre Dame game, based on visual evidence in South Bend I believe it's Gardner's LEFT shoulder that is ailing, not the right FWIW. 
* Headsets.  I don't think Hoke necessarily needs to wear a headset, but I'd at least like my man to have an ear piece or something for a couple reasons.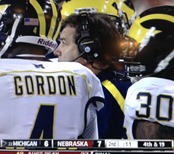 First, there's a lot that goes down on camera that someone should be relaying to him—like that bizarre interception.  While every play is supposed to be reviewed I've noticed coaches have a way of browbeating officials into taking a hard(er) look at a play.  Perhaps the replay refs quickly concluded there was no good angle, but in order to be a live ball, somehow that pigskin needed to shoot straight back up into the air without touching the ground.
Another reason for the headset is to talk some clock strategy and Hoke actually did put the ears on at the end of the half  (inset) but…I think they missed an small opportunity.  U-M had the ball on 4th down on the Michigan 45 and Nebraska let the clock run down.  Why didn't Hoke use a timeout with :01, insert Gardner, have him roll out and heave it downfield?  
* Tweet of the game:

For certain: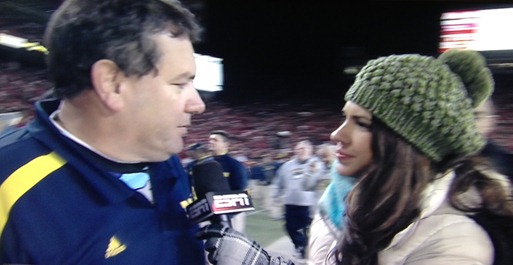 Speaking of the halftime encounter, U-M alum Rich Eisen wasn't impressed with the journalistic chops of Picabo Street: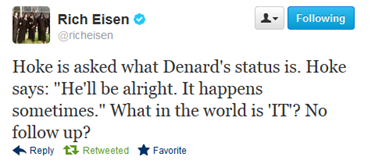 Throwback:  Where did they find that retro jacket for Denard with the throwback M logo?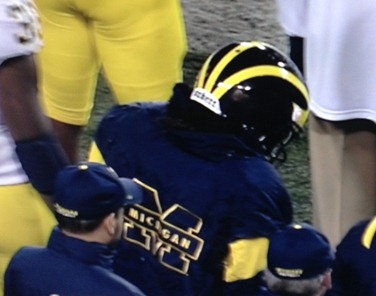 Related: