Don't miss Sports Illustrated's piece titled 'Big Banger' on former Michigan icer Mike Komisarek. They've included a graphic that proves once and for all that the current Montreal Canadien is the toughest man in the NHL: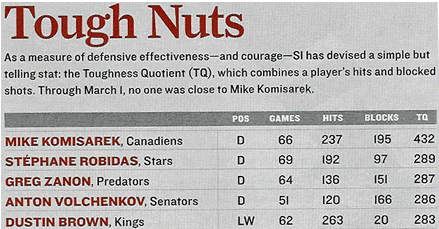 And SI.com didn't forget about where he honed his craft and got a quote from Red:
During his two years at the University of Michigan, walk-ons hopeful of playing for the Wolverines would have to run the Komisarek gantlet. He remembers unloading on the newcomers, helmets and sticks flying as in a cartoon brawl. Says Michigan coach Red Berenson, "I'd have to say, 'Mike, take it easy on your teammates. The enemy comes this weekend.' "
Good to see some props to the rougher element of the NHL that we all used to love. Alles klar, Herr Kommissar Bettman?
Mini eBay Watch: The University of Michigan Dance Marathon group is raising money and selling some cool items on eBay right now including a coach Berenson autographed stick, a football signed by BOTH Lloyd Carr and Rich Rodriguez and a host of other cool stuff. Check out their auctions here.