Here's the official press release from U-M media relations and the newly installed practice of creating 'Michigan Legends':
Desmond Howard to Be Inaugural "Michigan Football Legend"

ANN ARBOR – University of Michigan Athletic Director Dave Brandon announced today (Saturday, Sept. 10) that former football standout Desmond Howard will be the first player in program history to receive the designation of a "Michigan Football Legend." The announcement came during a pre-game ceremony honoring Howard at the "Under the Lights" game between Michigan and Notre Dame.

Howard will be honored in perpetuity with his name always adorning the #21 jersey at Michigan. A patch over the left upper chest will be affixed to the #21 jersey currently worn by Junior Hemingway and all other future players donning Howard's jersey number.

"This is a great way to honor our legends," said Brandon. "Desmond will be the first in what will become a unique way to honor some of our Michigan football greats. Many of our current fans and players don't know or remember the five jerseys that we have previously retired and who wore them. This concept is a visible representation of iconic figures in our program's storied history that fans across the country will see every Saturday."

In addition to the permanent patch, Howard will be the first Michigan Football Legend to be featured in a special area to be designed and constructed in the soon-to-be renovated Schembechler Hall.  And, the lockers to be used by #21 in both the Schembechler and Michigan Stadium Locker Rooms will be customized to reflect that fact that Desmond Howard will forever be a Michigan Football Legend.

"We are planning to dedicate an area in Schembechler Hall where these iconic figures can be displayed," added Brandon. "And, Coach Hoke and all future Michigan Head Coaches will assign this historic jersey to a special player who is deserving of the honor to wear Desmond's #21."

Howard, a Cleveland, Ohio, native, will be honored for both his induction into the National Football Foundation and College Football Hall of Fame and his naming as a "Michigan Football Legend" at the "Under the Lights" game against Notre Dame on Sept. 10. Howard won the 1991 Heisman Trophy and was the national player of the year by nearly every association 20 years ago.
Thanks to AnnArbor.com, here's a quick shot of the patch on Hemingway last night: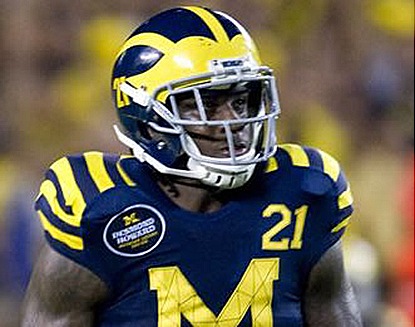 Joseph Tobianski – AnnArbor.com