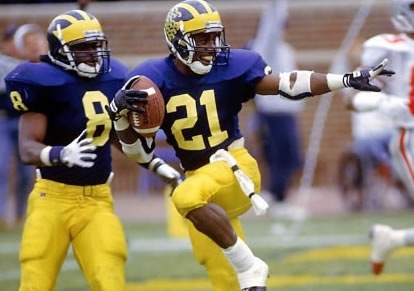 Photo: Brian Masck
A nice interview with Desmond in the Daily.   Of note:
TMD: How much do you get approached about the Heisman pose you struck in 1991?

Howard: Oh wow, you can't measure it. It's the No. 1 thing people ask when they see me. 'Oh, wow, do the Heisman pose.'

It just bothers me.

I don't do it anymore because everywhere I go people ask me to do it. And if I do it, then it cheapens that moment. So I just refuse to do it now.  And just leave it for those who experienced it in Ann Arbor.
I get that.  At some point you turn into a clown that does a funny trick.
TMD: Dave Brandon said the other day your number probably won't be retired. Have you come to terms with that fact? Would you like for it to be retired?

Howard: I think that what they do have in store (for Saturday), it'll show you why we're Michigan. It's, 'The Michigan Difference.' So stay tuned. To be honest with you, there's two sides. As a player, you feel as though retiring your number is the biggest honor. But when you do what I do, and you see guy's numbers who are retired who haven't accomplished half of what you've accomplished, it's like it kind of cheapens it. Like, 'Everyone's retiring numbers now.'

So I think they're doing something that you'll be really surprised with and pleased with.

TMD: We're going to be pleased with it. Are you going to be pleased with it?

Howard: Watch my reaction.
Good stuff. 
Related: