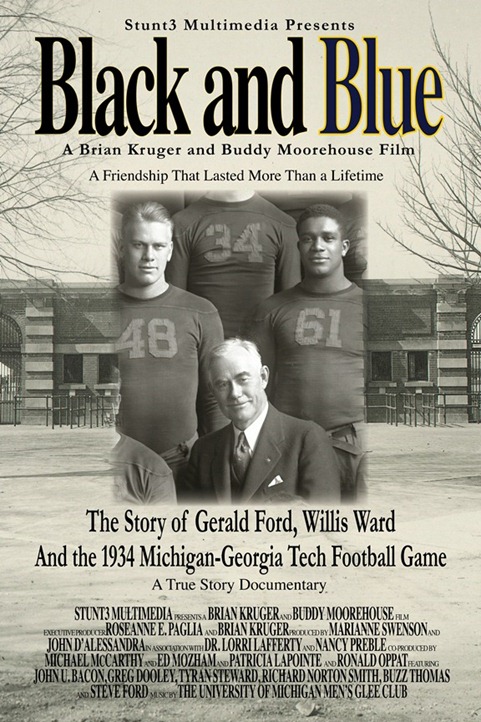 [Ed.  This interview first appeared in GoBlueWolverine magazine.]
Brian Kruger and his partner Buddy Moorehouse of Detroit-based Stunt3 Multimedia are currently on a nationwide tour, screening their wonderful new documentary, Black and Blue. It's the amazing but little known story of Michigan's 1934 football game against Georgia Tech, and the circumstances that led to the benching of Willis Ward, an African American football and track star at U-M. The backdrop of the tale involves Ward's friend and future president Gerald Ford, and it follows how the incident shaped their lives after college.
Brian, the director the film, was kind enough to sit down with me to discuss this project and much more.
MVictors: When did you and Moorehouse first hear about this story, and at what point did you know it was a project worth taking on?
Kruger: We first heard about it when President Bush eulogized Gerald Ford [when Bush discussed the relationship between Ford and Ward]. I called Buddy after seeing that, and Buddy was once the sports editor for The Michigan Daily. I said, 'Buddy, have you ever heard about that?', and he said, 'Not really.' So the first thing we did was spend time looking around to see if anybody had done a movie on it. At that time we were thinking about creating a film company and I was looking to change careers. We looked around and found it was mentioned in a couple of books but nobody had done anything further with it. We became more and more astounded that very few people knew about this story. So that's why we said, 'We need to do this.'
We were going to make it the first part of a ten part series called, 'The Victors'. The idea was to tell lesser known stories about Michigan football, and this was going to be the second one. The first was going to be the Ron Kramer story but then he passed away and we started on the Willis Ward story.
MVictors: How has the documentary evolved from the initial cut?
Kruger: This is our fifth film, and usually when we make a film we do something called the screener. It's not a rough cut, but it's what we want to show people to see what the reaction is. That film was an hour and eleven minutes and the reaction was overwhelming, people thought it was fantastic. We were excited about that. Many people told us that we should get the film on PBS. We looked into that and were told that if we want to get it on PBS we need to get the film down to 56 minutes and 44 seconds. So we made that cut, and that's the cut that's been showing around the country. There's actually a third cut that's going to be made this summer called the director's cut, and it's because so much information has come to our attention since the release. And the other big thing is that we'd like to get it in consideration for an Academy Award.
MVictors: I understand someone contacted you claiming to actually have the game football from the 1934 Michigan-Georgia Tech game?
Kruger: What happened was, we were looking for the game ball. I think we asked you at one point if anyone had the ball, and we figured if anyone knew if that ball was around it would be you [laughs]. That was last year. Anyway, a few weeks ago a woman called me. She said her father was John Regeczi, who played on the teams with Gerald Ford and Willis Ward, those three years. She was very excited about that and she was telling me some stories. After about ten minutes I figured the conversation would wind down, and she said, 'Oh and by the way, we have the game ball.' [laughs] I was like, 'What?'. I asked her to email me photos right away. It's the real thing – it has the score Michigan 9, Georgia Tech 2 and has 1934 on it, and there appear to some signatures on it. It will be interesting to see if Ward's signature is on it either way. I'm looking forward to looking at it closely.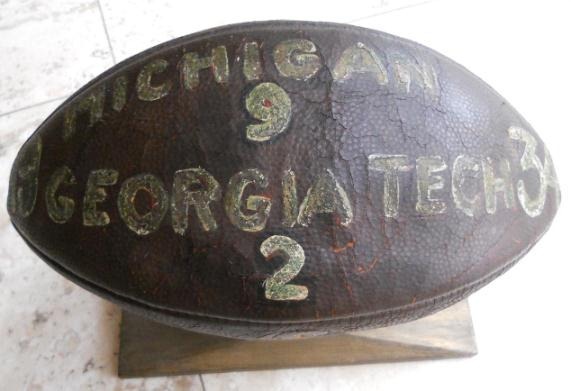 MVictors: So where's the ball today?
Kruger: That's a good question, too. I was assuming the ball was in Ann Arbor at somewhere like Barton Hills or something. I told her I wanted to check it out and she invited me to come see it. So I asked where she lived and she said, 'Southern California'. [laughs] She said it's been in the family for 77 years.
MVictors: I saw the screening at the Alumni Association building in February. One thing that stuck out was the gasp when it was mentioned that Ward once beat Jesse Owens in a race. Do you plan to go further into Owens and his relationship with Ward in upcoming releases?
Kruger: We actually do, and that's what's spurring what I call a complementary piece that we've tentatively titled A Race in Time. It's the untold story of Willis Ward. It was going to be the untold story of Ward and Owens, but there's a lot more with the Ward story. As far as their head-to-head races, they were a big deal. On March 2, 1935 Ward and Owens raced against each other, Ward wins twice, Owens wins once, and Ward set the world record in the 60 yard dash at 6.2 seconds. On March 9th, one week later at the Big Ten Championship, they raced again and Owens won both times, and Owens reset the World record at 6.1 seconds. They met again on March 24 at the Butler relays in Indianapolis and they raced again in the 60 yard dash and Owens won it. That all went down 77 years ago this March.
MVictors: So speaking of memorializing former athletes, I understand you recently addressed the U-M Board of Regents to discuss honoring Ward in some way?
Kruger: Yes, we passed out a copy of the film to the Regents and we told them we're not sure what we can do or what the process is, but we really do need to have a permanent marker, something on campus that recognizes what this man did. We got applause and everything else. Afterwards, we had a far more off-the-cuff discussion, and I told them that we've been screening it around the country and that it's been really well received and we need to do something for Willis Ward. I also told them that I think a copy of this film should be given to every incoming student. We got a really good reaction from a couple of the regents afterwards and in fact Regent White, who was not there, chimed in over the teleconference and told the rest of the group that she'd seen the film and thought it was wonderful, and that something should be done for Ward. At that point a motion was made to do something for Ward and it was seconded. We're just not sure what it is at this point.
MVictors: While it's not in any way theme of the film, you've got George Bush (who eulogizes Ward at the start of the film) and of course of Gerald Ford, and Ward himself who were all Republicans. In this election year, have any viewers or potential donors had an issue with the film because they feel there's a political bent to the story?
Kruger: Not quite like that. I did get one potential donor who said that if that if I would remove the references of George Bush from the film that they would then consider becoming financially involved. That's the first time I ever thought of this film being political. Gerald Ford is kind of frowned upon by conservatives. He was the first Republican to sign onto the Voting Rights Act, the Civil Rights Act and all that can be traced back to his relationship with Ward. But I can't take George Bush out of the film. It was not only how I found out about the story, it was how the rest of the country really learned of the story as well–when the sitting president eulogizes a fallen president.
MVictors: How critical were the archives at the Bentley Library in creating this piece?
Kruger: Absolutely invaluable. When doing a documentary, using images like letters and photos from companies like Corbis and Getty can make story a like this cost prohibitive. I mean to the point where it could be another 77 years before it could be told, because documentaries don't make a lot of money. This story doesn't get told unless somebody like the Bentley Library rubber stamps the approval on all of the rights management of all those photos. Ironically a lot of that material comes from the Fielding H. Yost collection that was donated to the Bentley in 1970.
MVictors: Yost is effectively the villain in the story, with albeit a bit of redemption at the end–do you think the film will change how Michigan fans feel about Yost?
Kruger: I don't know. But this is the way I look at it. I'm not at all prepared to demonize the man that revolutionized college football and the man who left the legacy that did. All of us have faults. Yost clearly had his faults too. Unfortunately his are being dug up by a couple guys long after he's dead to tell this story about Willis Ward. I'm not apologetic about that at all, but I'm also not in any mood to say that this guy needs to be tucked away and never talked about again, and knock the stone off of Yost Field House and call it Ward Field House, which I heard someone say that other day. That's insane. It's Fielding H. Yost, the man is iconic. I'd say look at the whole legacy, don't just look at 1934.
** Pick up your copy of the Black and Blue today – with free shipping
Follow MVictors on Twitter