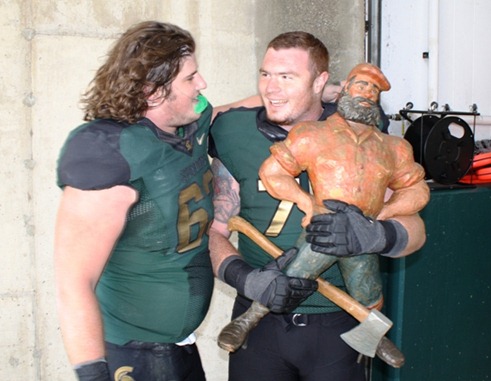 Paul Bearer: "This is Paul and Paul is my friend.  I will hold him and hug him and squeeze him and love him.."
Much of the postgame chatter naturally focused on the personal fouls.  My take—State's mostly meaningless penalties kept Michigan in the game, kept drives alive, and the yardage from those penalties was U-M's most consistent offensive weapon.  M rushed for 82 yards while picking up 124 thanks to the maize flags.  Was it dirty?  Certainly a few plays were cheap and Will Gholston will be sitting a game (ok, or three) after the Big Ten reviews the game.   But Michigan lost because they didn't execute on offense and there were plenty of opportunities.  It's on Michigan.  At times guys were wide open—we're talking 20 yard radius open—and Denard either didn't have time or didn't see them or tossed a bad pass.
I give State credit for those blitz packages but mainly for bottling up the running game.  If this is going to work, M must get more production out of the backs.  Hoke said it, "…We had 82 [rushing yards]. That's pretty much it."   Quoting Dr. Sap quoting Bo, "AND WE HAD NO BLOCKING AT THE POINT OF ATTACK!"
Now, on the pfs I'll say this–if Michigan finished a game with six personal fouls, I'd be really pissed about that whether we won or lost.
My advice to Wolverine fans?  Follow Hoke's lead and focus on Michigan.
More takes from East Lansing (I'm still here):
I was impressed with Gardner when he was in there and continues to look sharper than Denard tossing the rock.  Hoke agrees and said afterword, "I think Devin at times can throw the ball a little more accurately."   I understand Speilman spent half the game railing on why Michigan shouldn't take the ball away from Robinson, but that's bunk, and I like inserting him in there from time to time. Plus you know State focused the past two weeks on Denard, why not move Gardner in there to mix it up?   Based on a few texts and tweets I know there are folks thinking Devin should start against Purdue but that isn't going to happen unless 16 is banged up.
Now, was Denard banged up?  He might have been.  There were a few times when it seemed he could pick up 20 or more but got hung up by a linebacker or safety.  He seemed to be missing that extra burst but perhaps State was a little quicker than I expected.
Will Hagerup did a wonderful job executing what seems to be either a lost art or a endangered strategy: punting the ball out of bounds.  Of course this might be endangered because more and more coaches go for it in the opponent's territory.  Michigan should have gone for it at least once, maybe twice, in the first half.
Overall the team is clearly tackling better than last year.  I don't know exactly why that is, but I chalk it up to guys being in better position and knowing their assignments.  It's the biggest change from 2010 to 2011 and it's great to see.
Speaking of going for it, while it seems eons ago, the fake field goal that preserved the first scoring drive seemed to be well devised but was a tad shaky on the execution.  Bottom line it got the first down so hats off.
Off the field:
Surprise.  The team surprised the players (and everyone else) by having the all-white legacy uniforms and Victors Valiant undershirts chilling in their lockers after pregame warm-ups.  I like surprises I guess, and while the reaction of tweets was mixed, most folks seemed to like them.  Of course we lost so…you have to wonder if we'll ever see those again, brother. 
The Formal Whites.  Media relations correctly noted that the all whites were last used in the 1975 season, capped by the 1976 Orange Bowl.
MSU Press Box.  It's a very large and nicely laid out facility split on two sides (north a south).  It's not quite as nice as the Michigan press box but close, and it sits a level or two higher than the Big House field.  Two things to nitpick: MSU charges the media for food (in fact the credential comes with a price list in case you didn't plan to bring any money), and they asked media not to tweet live scores as that might compromised the delayed TV feeds.  The former is fine I guess, it's a few bucks and many schools like Michigan charge for things like parking.  The latter is just silly and thankfully it doesn't look like it was enforced. 
Trash.  The wind combined with the trash on the field caused quite a spectacle—a mean plastic hotdog bag tornado that could have swept up small dogs.
Three Times. Quarterbacks that have beaten Michigan 3x: Bob Griese, Terelle Pryor, Troy Smith, Kirk Cousins, Tippy Dye (Ohio State).